Danish goalie
Kasper Schmeichel lost the game to Harry Kane's fast rebound, but it could or could not have been from the bad sportsmanship attitude of a rude fan. The Three Lions' granted penalty goal was taken up by Kane, and
Schmeichel was guarding the goal post. But a distasteful incident happened as the goalkeeper prepared himself; his eyes were temporarily blinded from a laser pen shot by a fan.
A bright laser was shone on his eyes from the spectators' seats right as the ball was kicked.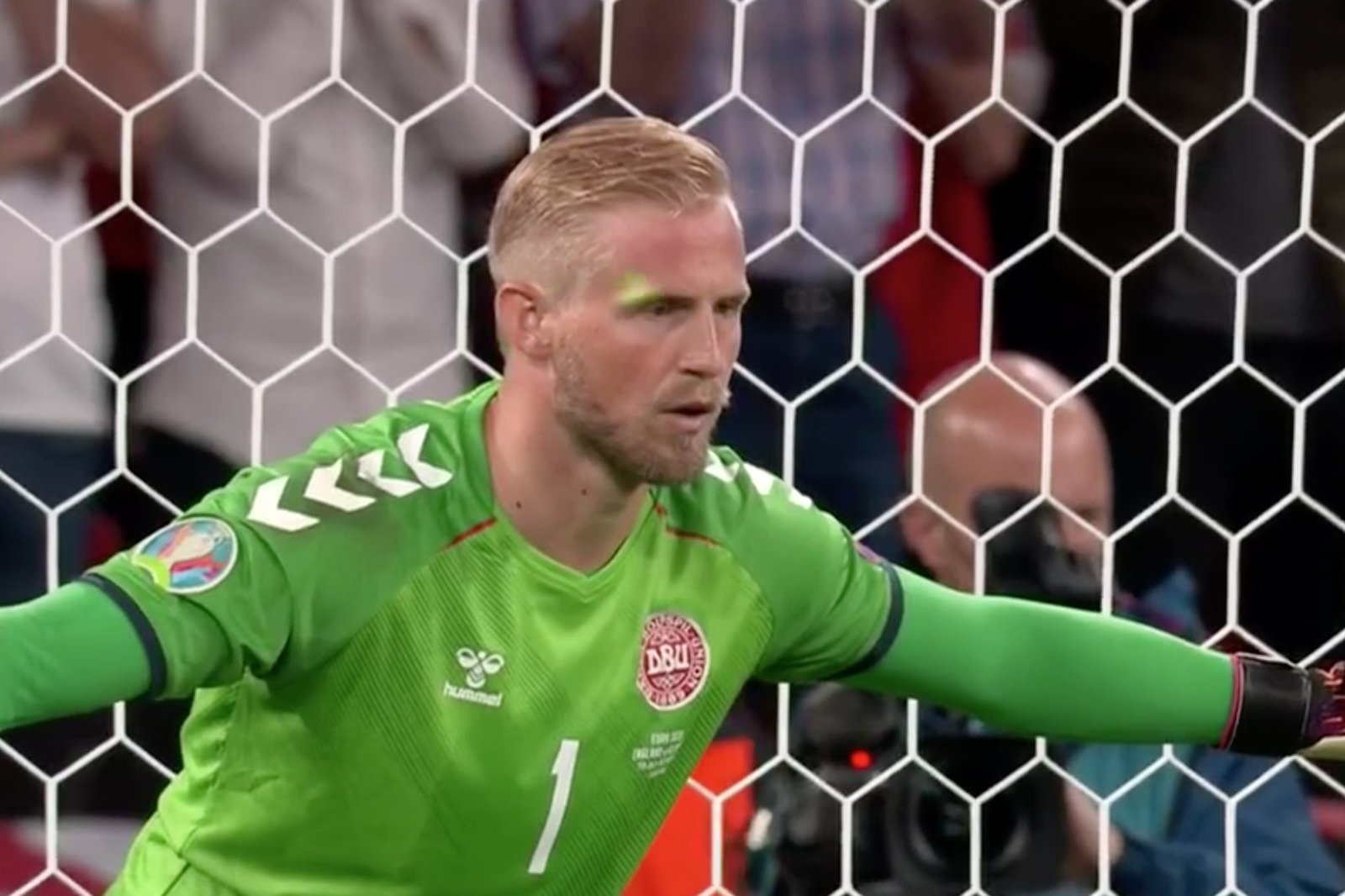 rasmusvuori -Via
But the goalkeeper still managed to save that one kick. Unfortunately, he pushed the ball onto the striker's foot, giving a rebound and making a winning goal.
Fans and sports observers were outraged at the result, asking for the perpetrator to be banned for life. They were voicing it heavily on Twitter, with many agreeing and demanded the fan be banned from any future ball game.
Here you can see how the green laser is pointed at Kasper Schmeichel just before the penalty kick pic.twitter.com/6w5s43rjuY

— Rasmus Vuori (@rasmusvuori) July 7, 2021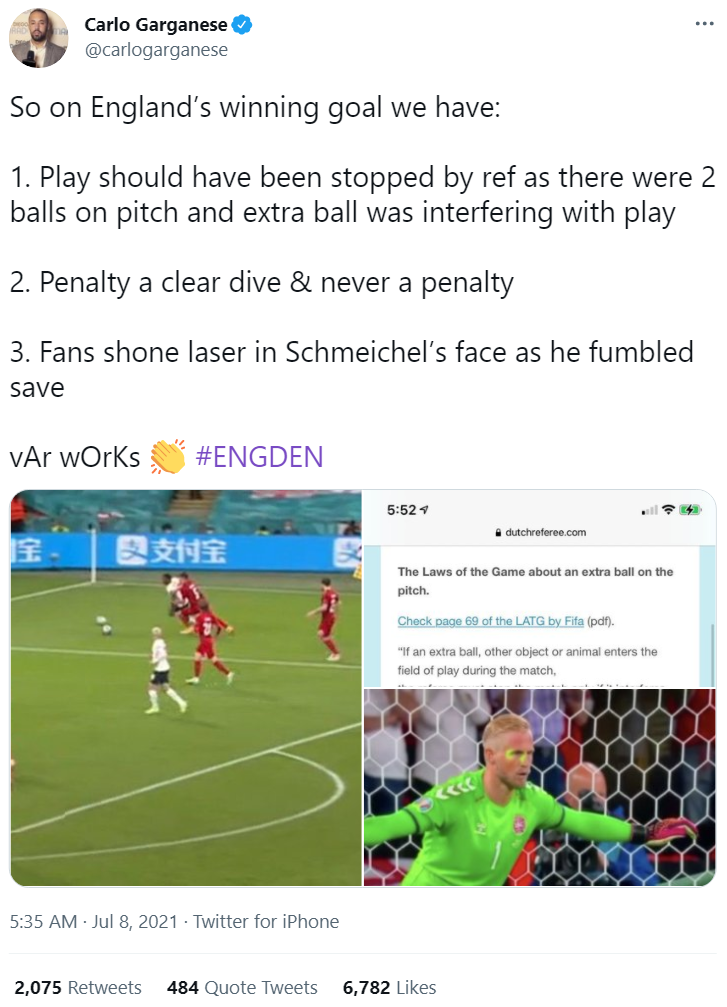 carlogarganese -Via
Fans are tweeting out of rage at the unfair results. One wrote, "Whoever shone that laser pen in Kasper Schmeichel's face wants banning for life."
Another angry fan wrote, "Whoever showed that laser to Schmeichel's face deserves a permanent ban from Wembley and further England games."
Several individuals took this opportunity to remain fellow Englishmen to remain graceful as fans.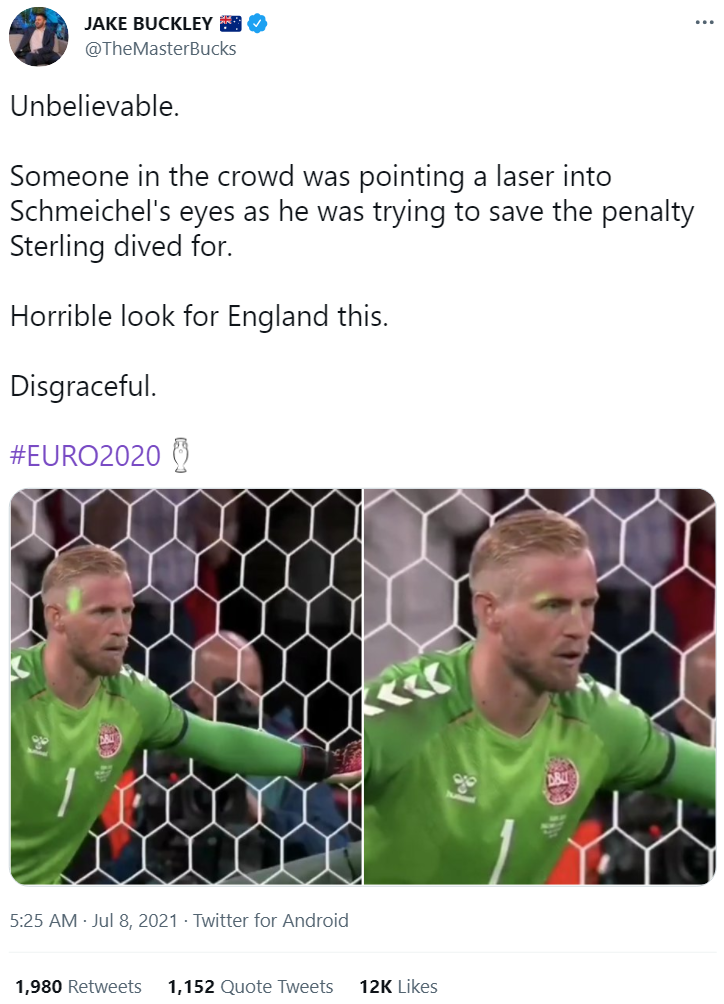 TheMasterBucks -Via
StanCollymore -Via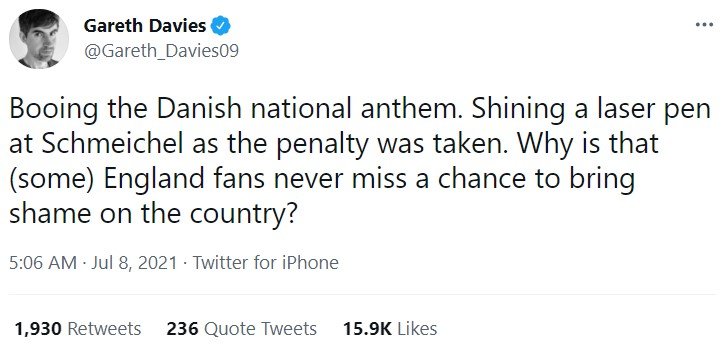 Gareth_Davies09 -Via
There are differing opinions on how the laser may or may not had affected the game. Some believe the goalie was fine as he still managed to block the shot, but others didn't think it was a fair game. One thing they did agree on was the laser flashing requires stern actions from Euro 2020 to ensure future games won't be interrupted like this again.
A dangerous act that should never be allowed to happen again: fans agree the 'fan' should be banned for life.
SiobhanCorc -Via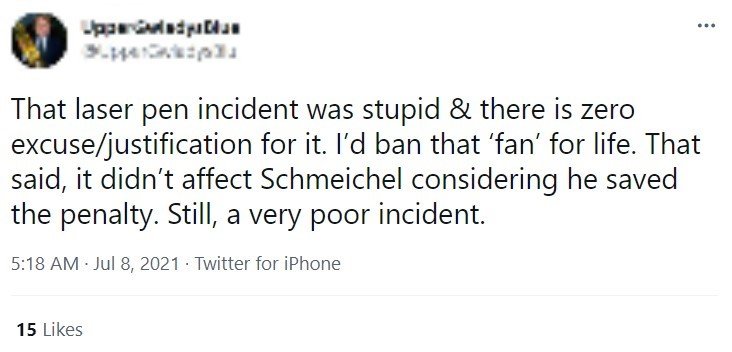 UpperGwladysBlu -Via