A mother had taken to Facebook to rant about a recent disappointment after ordering from Jollibee for the first time. Fast-food giant Jollibee Foods Corp. was quickly under fire when the Facebook post went viral. To be more precise, it was the Jollibee branch that had just opened in Bonifacio Global City. The store involved in the issue had been temporarily closed down since.
The Facebook post has since then been either deleted or archived.
aliquemarie -Via
Alique Perez couldn't contain her disappointment from finding the Chickenjoy she was supposed to get was actually a fully battered toweled that was deep fried thoroughly. She had got her order through a popular Southeast Asian food delivery app, but when she was about to serve it for her son, she found it unusually hard.
She tried to split open the chicken to find a green towel inside.
Alique Perez
The shocking mistake from Jollibee had prompted them to close down the mentioned branch for inspection.
Alique Perez
Alique Perez
Here are videos of the family picking the towel apart.
Several users were disgusted and felt repulsed from eating there again. One wrote, "That is a gross negligence on their part. I am not into the dismissal of the employee, but the negligence may result into a bigger accident. I am so sad, its been my comfort food. How will I trust again?"
Another saw this as negligence resulted from tired employees, "Don't overwork your employees to avoid such incidents. Most of them are working half asleep because they need to render a mandatory OT instead of resting after a 9hrs of underpaid duty."
In response, Jollibee Philippines's official account had addressed the issue on Facebook.
"Sharing our official statement on the recent experience of our customer in one of our franchise stores."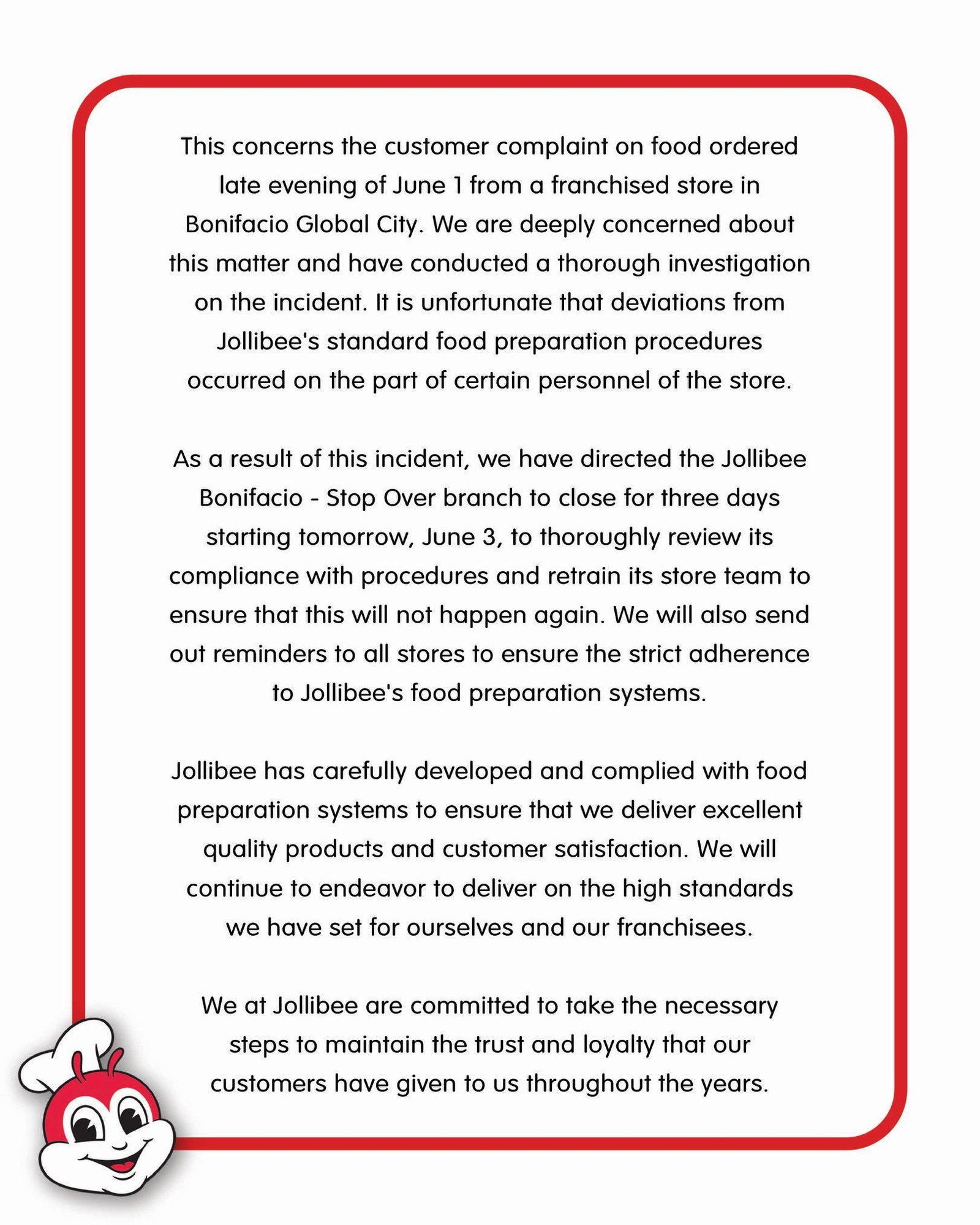 JollibeePhilippines -Via
Some people were praising Jollibee's quick response. One wrote, "As a Jollibee former crew, I knew exactly how food, service, and cleanliness are being inculcated to every crew's mind. This is absolutely an isolated case...
Salute to Jollibee for this humbled stance yet with a very strong message ensuring the public that this means a lot.."
Another wrote, "Accident happens. If this is an isolated case, it's a different story already. Yeah, Jollibee made a mistake. but we have to consider also the other factors on why this thing happened. right?"
A parent commented, "Jollibee is Jollibee! My children and I still love Jollibee... And it's good that they took swift action to rectify the issue."