If you had heavily trolled Davinci Jeremie in 2013 after he urged people to invest $1 in Bitcoin, it's time you cover your face in shame: He has made it! Yes, he's living like an absolute boss than you can ever imagine. Photos are suitable proof, and as seen on his Instagram, Jeremie now lives a luxurious lifestyle and never far from yachts, beaches, and private planes. More to note: Jeremie from Chile is equally often tagged in places including Dubai and Monte Carlo. The early Bitcoin adopter describes himself as a programmer, a YouTuber, and a family man on Twitter. It turned out his most recent post spilled the tea, mainly as Jeremie captioned it: "Me living like a boss!"
Davinci Jeremie, who urged everyone to buy $1 of Bitcoin in 2013, is now living like a true boss.
Jeremie, in May 2013, had posted a clip to YouTube, urging his subscribers to purchase a dollar of the Cryptocurrency. Along with the clip, he had written:
"Look, for the price of a lotto ticket, you can hold Bitcoin (BTC) for 10years and become a millionaire. It's time you stop living in fear. If it goes to zero, you lose $1; who cares!!!
Jeremie is never far from private planes, yachts and often tagged in Monte Carlo and Dubai.
"Look, for the price of [a] lotto ticket, you can hold Bitcoin (BTC) for 10 years and become a millionaire." Jeremie had said in the video.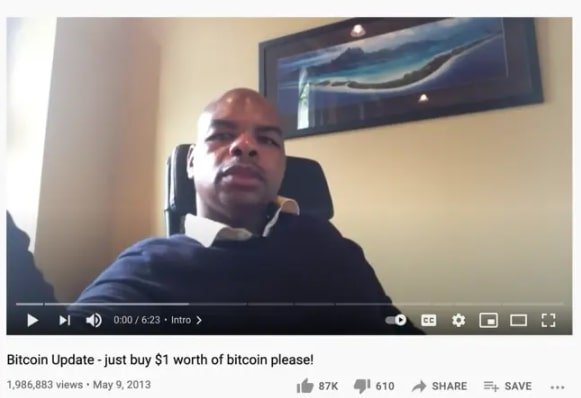 Davincij15 -Via
Jeremie added:
"But if I'm right, I want all of you to thank me. It will not make me happy if you come back to me in 10 years saying, dude, I wish I listened to you back in 2011 or 2013. Just so you know, Bitcoin is a digital crypto and global money system currency. I talk about the technical analysis of Bitcoin Ethereum and crypto and how I make money trading BTC. Bitcoin allows people to send or receive money across the internet, without a third party."
As it appears, Jeremie's incredible life came from his savvy investment in Bitcoin.
As it appears, Jeremie's wholesome life all came from his investment in Bitcoin, and funny enough, anyone stalking his life since then to date will undoubtedly wish they had taken up his advice. However, Bitcoin dipped a few days sharply back, but Jeremie has continually reassured people that the slump is nothing to be bothered about. Hopefully, things will bounce back to normal very shortly!
Life is a risk, Jeremie took it, and now he has triumphed.
Watch Jeremie's Video Of 2013 Here: