Attending prom for many teens remains the highlight of high school. It's usually a night that can't be anything less than perfect. But then, it turned out it's equally a recipe for things to go terribly and embarrassingly wrong. The hilarious moment from anyone's youth are shots from school prom, and here we do have some for your perusal. Big fails?
Yes, there are failures, and people have courageously taken to the internet to share their absurd prom stories. While Prom occurs over the spring, it is possible to expect another set of teenagers across the United States wishing for the ground to open for a swallow. From the date who had daughter's date fill out an application for permission to date his daughter to the store that didn't take off security tag, making people think wearer had stolen the dress, this list will leave you laughing out loud. Have a look and enjoy the laugh.
Katie Is A Savage.
gangbangkang -Via
"My Date Gallantly Tried To Carry Me Over A Creek While Taking Pictures, But It Didn't Go As Planned."
madelineh4659a2c8a -Via
"Went To Get My Hair Done For Prom And This Happened."
kerrylevine_12 -Via
Being Run Over Amid Prom Entrance.
keeleymillerx -Via
Here's One Failed Photo. Do You Agree? Old Dog Had A Pee And Wasn't Bothered To Walk Any Further.
staceypatonk -Via
The Slippery Situation!
At least we tried #Prom2017 pic.twitter.com/7wtpuFKXw6

— Jordyn (@jordynmcmanus_) April 23, 2017
The 2020 Prom.
cowboij -Via
The Human And Cat Only Prom.
jasonchavezn -Via
"This Is What Happens When Everyone In Your Prom Group Tries To Do The Whip At The Same Time! Tag A Friend Who Always Tries To Whip But Fails!"
"My Dad Had My Date Fill Out An Application For Permission To Date My Daughter," Complete With What He Wants To Be IF He Grows Up."
nelsonmackenzie -Via
The Interruption Of All Time.
yorkiegrl82 -Via
The Fake Prom Proposal.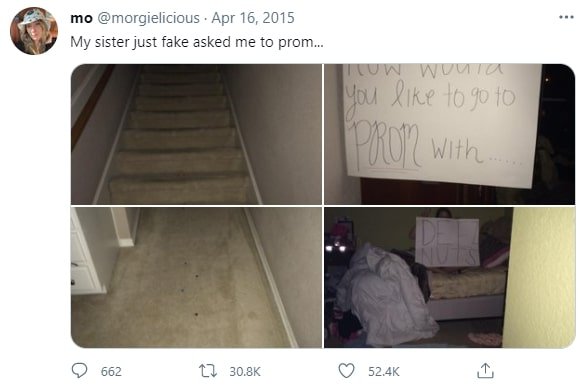 morgielicious -Via
The Explosion.
ashanderson311 -Via
When You Have An Awkward Date.

hannapolakowski -Via
The Striped Moment.

imtiffanyblair -Via
"When I Put On My Dress The Night Of Prom I Realized The Store Didn't Take Off The Security Tag Everybody Thought I Stole The Dress."
steveenicolle -Via
The Extension Fail.
anonbitchfr -Via