It was 24-year-old Jess Aldridge's life's biggest betrayal when she found out her boyfriend had run away from the family with her mother. The two people that she expected to help her as she prepares to become a mother-of-two left her behind. Her boyfriend Ryan Shelton, 29, had agreed that they move in with her mom, Georgina, 44, and her husband, Eric.
But the marriage and relationship in the house did not stay strong for long. Just weeks after they moved in, Jess was already seeing her own mom making moves on her boyfriend. Her mom, who has six grandkids, was having an affair with her boyfriend when Jess was still heavily pregnant.
Ryan Shelton is a car parts salesman while Jess used to be a Premier Inn housekeeper.
Jess told The Sun that she came home to find out that her boyfriend had run away with her mother 30 miles away to their new home.
She said, "She is meant to be a granny to my two children and helping me look after them, but instead, she's off sh***ing, my boyfriend."
This happens just days after Ryan and she welcomed their second baby together. Weeks before that, Jess had already found out that they were spending nights drinking together while "laughing and joking around in the kitchen every night while my dad and I were on the sofa watching TV."
Jess confronted them, but they denied and shrugged it off.
Jess Aldridge -Via
Jess recalls what her mom said when she planned to move in together with them, "She promised it would be easier with the new baby, but ­actually it was very, very tough."
For months, she and her dad had to endure the constant flirting the two of them would do in front of them. Jess refused to believe that something was going on between them, but she was forced to accept it in the end. Jess said her mom would wear revealing dresses as she spends time being touchy with her boyfriend on the couch.
Her mother replied, "We can't help who we fall in love with."

Ryan managed to see his son twice after he was born - the second time being while he was collecting his belongings.
Georgina was there with her when she had a C-section for Reuben, her second child. She received a broke-up text from Ryan hours after that. Ryan said he was tired of being accused of having an affair with her mom all the time.
Both her mom and Ryan simply said that they can't help with who they fall in love with.
Jess Aldridge -Via
She continued, "The day after I found out, she split up with my dad, who has taken it really badly. He's devastated. This was going on for six months behind my back."
The two of them would spend time together while they leave heavily pregnant Jess at home. They'd make all kinds of excuses which is 'disgusting and vile.'
Before running away with Ryan, Georgina has been married to her husband Eric for 12 years.
Jess revealed that her mom did say she was planning to split from her husband. But she'd never imagined that she'd run away with her husband instead. Jess continued, "They've just been so selfish. I'm horrified."
Jess has gone back to the home that she used to share with Ryan in Willersey, Gloucs.
The two have changed their relationship status on Facebook as lovers.
Jess Aldridge -Via
The home where Jess thought she could form a support bubble with her parents in Stow-on-the-Wold, Gloucestershire.
Ryan managed to make a few minutes to see them before he sent a break-up text and ran away.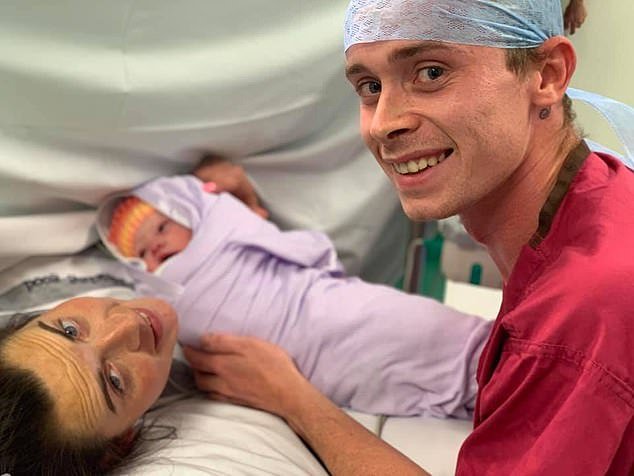 Jess is now devastated and heartbroken, confused with how she can explain to her friends what happened. Some who noticed her mom's and boyfriend's status change are shocked and have been texting her to see if she's okay.