The stereotype of stepmothers remains and shared life experiences have shown that quite a large fraction of children suffer at the hands of these real-life villains. A few women who take up the role of stepmother are loving, but a larger fraction is truly a monster.
A woman recently sparked an outrage on the internet after she asked that her stepson be cropped out of a family photo. The Florida based woman, identified as Natalie has now being dubbed pathetic for thinking such a cruel act. In a photo seen online, Natalie with her husband, their two children, and husband's son for a past relationship had all posed for a family photo.
But it turned out that Natalie wanted a photo with just her biological children, so she uploaded the photo to a Facebook group, 'Photoshop Fairy Connection' requesting that her stepson is removed for $10.
Natalie, a Florida based woman is slammed for asking the internet to Photoshop her stepson out of a family photo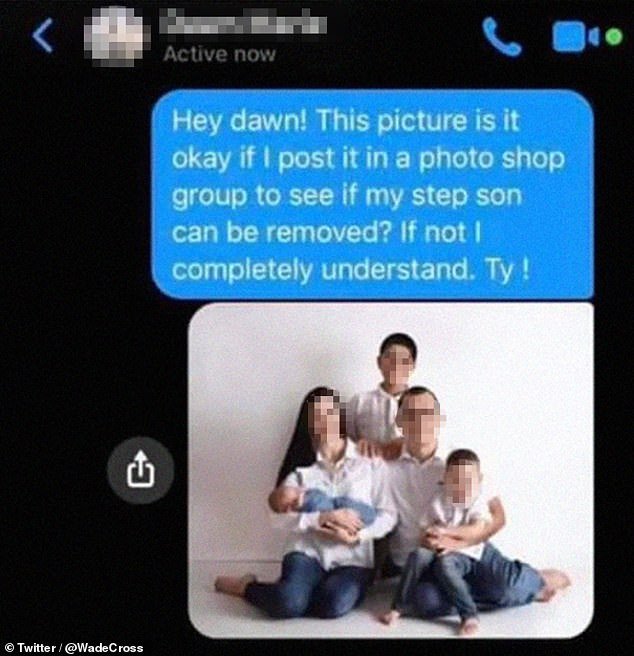 User @WadeCross had the same request shared to Twitter and instantly it went all viral with commenters disparaging the woman and dubbed 'heartless.'
'This image, is it okay if I share it in a photoshop group to see if my stepson can be cropped out? If it isn't possible, I totally understand.' Natalie texted photographer Dawn, while also sharing a photo of the family of 5.
In response, the Photographer asked: 'You want him removed? Did we take photos without him? But sure love, you can do as you wish, I don't mind! Of which, Natalie added: 'Yes! I want one with just the boys. And no we didn't take any with him. Okay, thank you so much!'
Sharing the photo to the Facebook Group, users didn't appear to dislike the request, reacting with angry emojis. Overlooking the comment section, Natalie appeared determined to have her wish granted, and indeed her Facebook profile photo showed an image with just her biological kids and stepson cropped out.
'
Twitter users dubbed the woman 'pathetic,' and a few admitted the cruel act left them in tears