Police in Vietnam confiscated more than 324,000 used condoms that were being cleaned and recycled to be resold back to the public.
In the footage captured by state-owned Vietnam Television (VTV), dozens of large bags containing the used contraceptives were seen scattered across the floor of a warehouse in the southern province of Binh Duong. Police said the bags weighed over 360kg, equivalent to around 345,000 condoms.
Police In Vietnam Seized 324,000 Used Condoms Being recycled Before Being Resold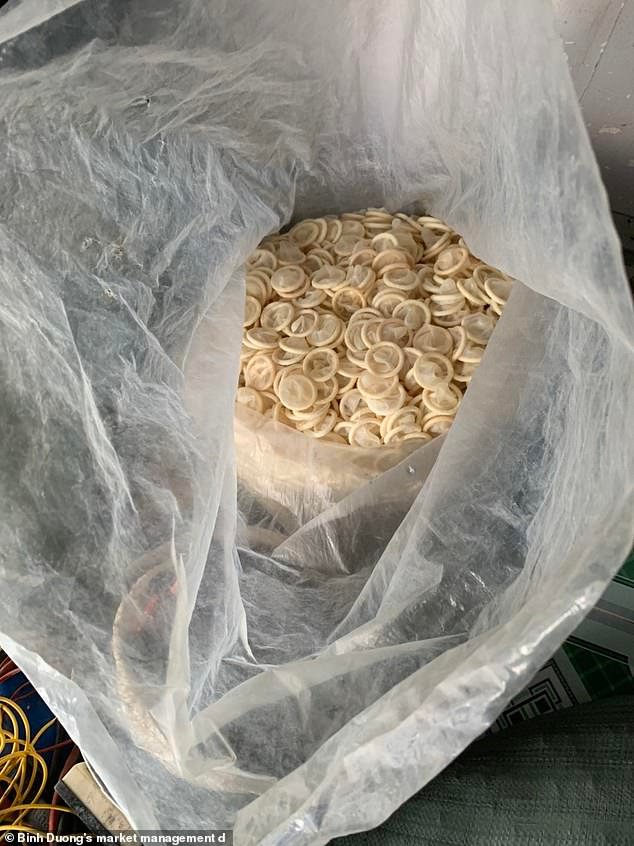 Workers detained during the operation confessed that the condoms were boiled in hot water and dried before being reshaped in large wooden phallus.
The condoms were then repackaged before being resold to unsuspecting the public. By the time of arrest, it is alleged that thousands had already been sent out.
The secret operation was being run from a warehouse owned by one Pham Thi Thanh Ngoc, 33, who was also apprehended by authorities. The owner claimed that she had been receiving the condoms once a month from an unknown person adding that she would receive $0.17 (£0.13) for every kilogram of recycled condoms she produced.
Paid Workers Cleaned The Rubber Contraceptives Before Reshaping Them with Wooden Dildos
The confiscated condoms were to be presented as evidence for prosecution before being destroyed due to the grave health Rick they posed.
A government official said: 'Condoms are classified as medical items, so we will take a look at the several laws that the owner has broken.'
The Operation Was Being Run From a Warehouse In The Province of Binh Duong, South of Vietnam
The Owner of The Warehouse Was Arrested and Revealed She Had Been Receiving The Condoms Once a Month From an Unknown Person.