How difficult is it not to be a jerk? It appears some people aren't finding it easy to be a decent human being who loves to appreciate things, including historical antiques, natures and even wildlife.
These set of beings tend to destroy things, neglect warnings but get the satisfaction of either photos, excitement or perhaps pretty things.
Without further ado, it's evident that people shouldn't easily be granted passports. And for the individuals in this article, they need to be fined, prohibited from traveling, deported while also having their passports withdrawn.
#1 Still On The Loose: A Duo Of Tourists Damaged The Italian Famous Two Hercules Statue In Cremona
Николай Максимович,Corriere
#2 Oregon's Historical Duckbill Sandstone Formation Was Fence Due To Its Instability But Was Broken To Bits By A Group
lauralawsonvisconti,The Oregonian
#3 Bison Calf From Yellowstone National Park Euthanized After Tourists Separate It From Mother
#4 Tourists Chased Down Peacock To Rip Out Its Tail Feathers At Beijing
yunnan.cn
#5 Baby Dolphin Was Passed Around For Selfies & Was Eventually Killed On The Spanish Beach
solarpix
#6 Chinese Schoolboy, 15, Scratched 'Ding Jinhao Was Here On A 3500-Year-Old Artwork At Temple Of Luxor
weibo
#7 Tourists Pulled Out All The Lotus Flowers In Ecological Park In Sichuan
asiaone
#8 Tourists Carved Send Nudes On Iceland's Popular Moss-Covered Hill On The Southern Part Of The Island
Bakland Ferðaþjónustunnar
#9 Tourists Mobs At Ostional Wildlife Refuge In Costa Rica
sitraminaecr
#10 Statue Of Saint Micheal Broken While Taking A Selfie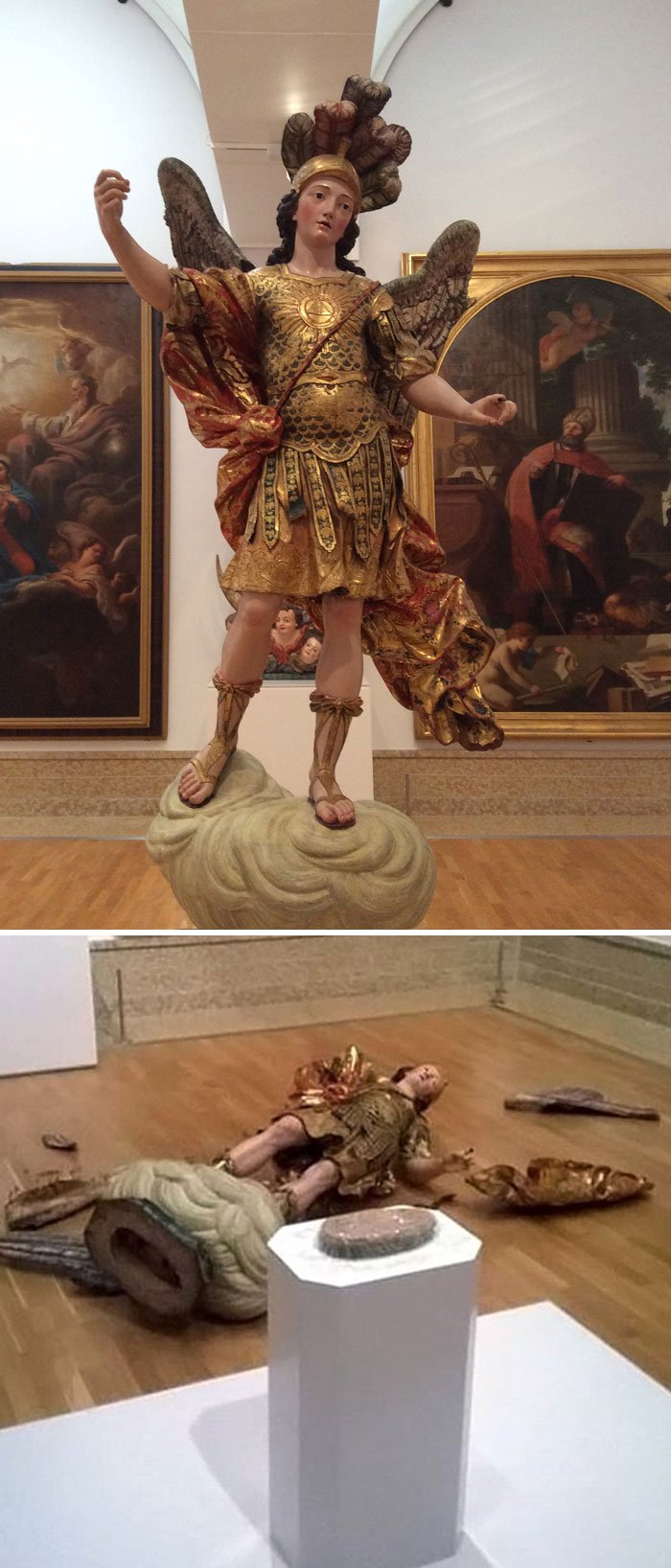 MIR
#11 Tourists At Liangshan Yi Autonomous Prefecture In China Broke Off Branches & Picked Flowers
stomp.straitstimes
#12 Beautiful Hot Spring Pool In Yellowstone National Park Is Now Fading Glory Due To Rocks Thrown Into It
onza04
#13 UNESCO World Heritage Site In Hampi, India Of A Vishnu Temple Had It Pillars Collapsed Down By Tourists
Kandukuru Nagarjun,PraveenMohanET
#14 Tourists Destroy Scarce Pink Grass Imported From Australia
Hzdaily
#15 Indonesian Tourists Poured Oil On 15 Sculptures In La Venta Museum And Park In Mexico
alexandersr,Jaime Ávalos/EFE
#16 Megalithic Tomb Dates Back To 2000 BC Vandalized With Harry Potter Sign
ancient-origins,galiciapuebloapueblo
#17 Margate Beach In The UK Littered After A 500-Capacity Event
Regangibson212
#18 Tourists Destroyed Mosque In South Morocco
moroccoworldnews
#19 Chinese Scratched Found On Corals Photographed By Bali Dive School Shows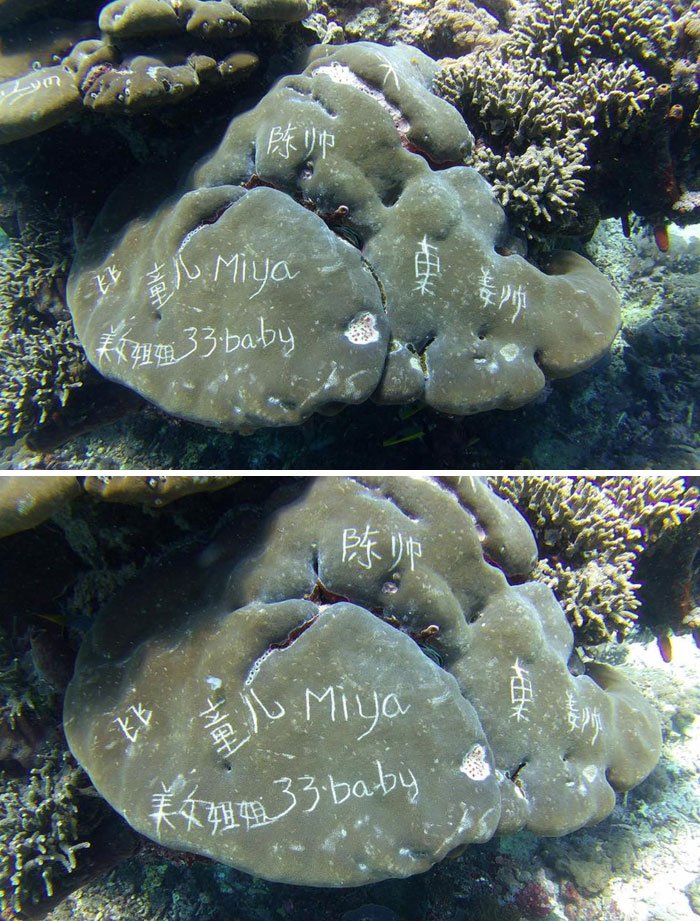 OK Divers
#20 Tourists Fined 105,000 Yuan, Equivalent Of $15000 After Racing & Chasing Endangered Antelopes
Weibo
#21Couples Proclaiming Their Love Destroys The Bamboo Trees
Casey Yee,EbisuyaArashiyama
#22 Chinese Tourists Shows No Respect To Wildlife
jakashh
#23 Tourist Destroying Ancient Landform Of Dinosaurs Time
Weibo
#24 130-Year-Old Dom Sebastiao Statue In Lisbon Destroyed After Tourists Take Selfies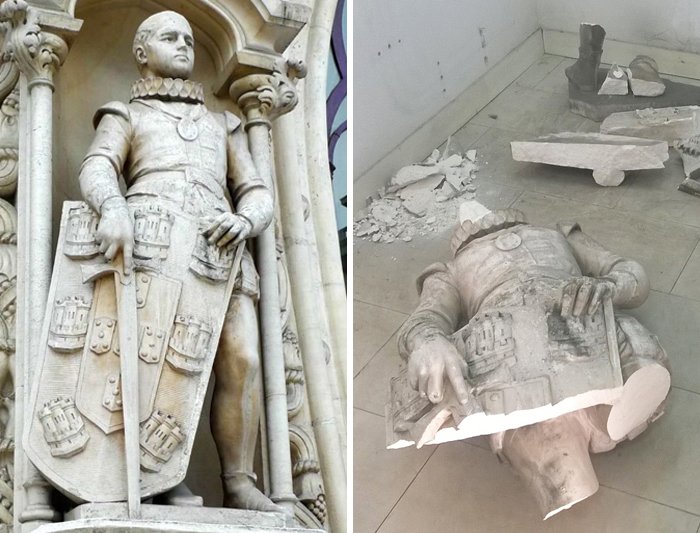 Ewan Munro,Infraestruturas de Portugal
#25 Tourist Fined $24,000 For Scratching K On Colosseum Graffiti
Courtesy Superintendence of the Archeological sites of Rome
#26 Tourist Mom Burying Used Diaper On Boracay Beach
MPBL Recap