Covid-19 is sending the world into disarray slowly. The most susceptible are people with pre-existing conditions as well as the elderly and healthcare workers who are constantly exposed to patients. Lockdown has been put in place to encourage social distancing and prevent the spread of the diseases, but this means the elderly won't get to see their family for a while.
Yet, that didn't stop these people from trying to connect with their family members and loved ones. Yes, they can't meet their parents and grandparents directly even if they want to. But we're living in the 21st century and there are just so many other ways we can use to meet and talk to them. Brighthumanity finds these efforts just so beautiful that we just have to share with our readers.
#1 Husband and wife who both work in the frontline calling each other during Covid-19 outbreak in China. This just looks too painful.
ChocoLolita -Via
#2 Mom and dad in their 90s, spending time together as lockdown is in place at the nursing home where mom is recovering from her femur fracture at.
Priscilla Sekula -Via
#3 She came to tell his granddad about her engagement, but they can't meet directly.
Premier Living & Rehab Center Info Page -Via
#4 This couple met their grandson, Ollie, for the first time.
Hannah Levins -Via
#5 This woman's husband come over to see her at her nursing home like this every day. They sing their favorite songs together as well.
WSFA 12 News -Via
#6 This man has been coming over and talk to his dad on the phone since the lockdown and it's just too sweet.
Sandy Hamilton -Via
#7 Husband wanted to celebrate their 67th anniversary together, but since he's not allowed to visit due to precaution, he held a sign outside her window.
MERNiK6 -Via
#8 This couple has been together for 54 years. They're blocked with a single window, but we know they have the strongest love ever.
Cumberland Valey Manor -Via
#9 When grandpa was told he can't meet his grandkids directly, he was upset, so grandma called. We're not about to let him stay upset for long, so here's them seeing his grandkids.
Cory Blocker -Via
#10 A reflection of mom who's looking longingly towards her husband, my dad, in the nursing home.
Cheryl Blair -Via
#11 Daughter came to see her mother during lockdown and look at that smile.
Cumberland Valley Manor -Via
#12 Dad is showing his father his grandson for the first time but they can't meet because of social distancing.
emmabethgall -Via
#13 Dad came with his girl to see grandad and this is just such a beautiful moment.
Cumberland Valley Manor -Via
#14 If this is not true love, I don't know what is.
jennydeloach -Via
#15 This home bans visitors during outbreak, so she got creative and still conveyed her messages through writing.
jollygreengentile -Via
#16 Nothing can stop people from seeing their loved ones and making them happy.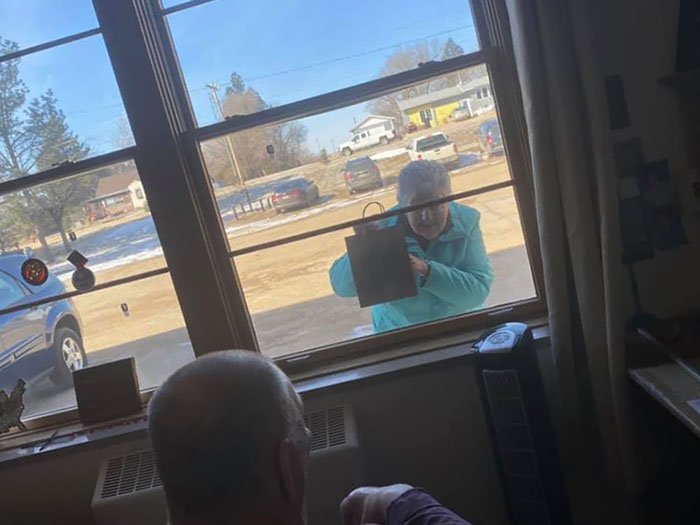 Five Counties Nursing Home -Via
#17 Colt and mom came to see Nana, but they were not allowed to due to lockdown. So, Colt wrote for her Nana to see and called her.
Stephanie Smith -Via
#18 Her grandchildren read her magazines from outside the window of her nursing home!
ButlerCountyDD -Via
#19 They are wishing him Happy Birthday and got creative with it!
GraceHealthandRehab -Via
#20 Sis sang me Happy Birthday for my 28th year living while I'm on my self-quarantine.
oversharewithfamily -Via
#21 The residents sill get the visits they so much wish for and thanks to technology, it's easier.
bibbmedicalcenter -Via
#22 They are celebrating grandma's 93rd birthday which falls on St. Patrick's Day, so green balloons!
Heather L Norris -Via
#23 Making every single day, every second worth it.
Cumberland Valley Manor -Via
#24 Even when in the rain, Betty's daughter still came, called and talked to her.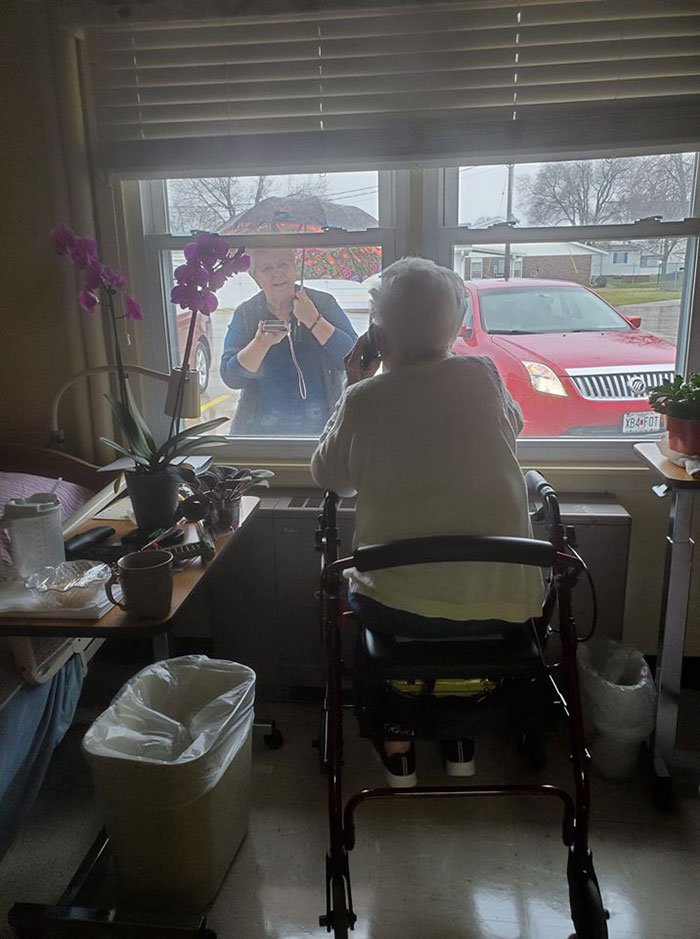 Clark County Nursing Home and Residential Care -Via
#25 These kids came to celebrate her 100th birthday, but because social distancing, the kids sang for her from outside!
Cradnee -Via
#26 Stepdad and son came to visit mom who's on antibiotics and pneumonia. They made her day better!
Premier Living & Rehab Center Info Page -Via
#27 Gave mom the much needed surprise and love!
Anna DeSarro Egresits, Anna DeSarro Egresits -Via
#28 Families still come to meet their loved ones even thought the nursing home is on lockdown.
EdwardAbrahamNursingHome -Via
#29 Buzz is coming over to meet the elderly!
Calhoun Nursing Home -Via
#30 He's checking in on Grandma and she's been a trooper with the other residents during this lockdown.
Becky Vogel -Via