A Photoshop troll, widely known for his brilliant photo-edits has posted the new collection of his hilarious creations.
Graphic designer James Fridman, born in the UK but residing in the USA, has made a name for himself by taking editing suggestions from his fans very seriously and posting the outcome on Instagram, where he has garnered over 1.9 million followers.
His latest batch of photo-edit shared with Bored Panda is typically amusing, showing you should be careful each time you are about to make a wish.
More Info: JamesFridman.com | Facebook | Instagram | Twitter
#1 This guy was deleted from his own picture with his dog after complaining about a bystander
#2 After asking James to make them look like they are outside, these three young men are totally separated from their own snap
#3 This lovebirds, thought to be from Russia, wanted more romance and indeed got it
#4 Unluckily for the boy in this photo, the real bear had other plans
James's got quite a following -over 1.39 million Facebook followers. 1.9 million Instagram-fans. And yet another 1.6 million happy Twitter followers. That's the kind of publicity one can get when providing regular and quality entertainment.
#5 This woman dreamed of adding an air of mysticism to her social media snap with a ' glittering orb/ball, ' but left her face magnified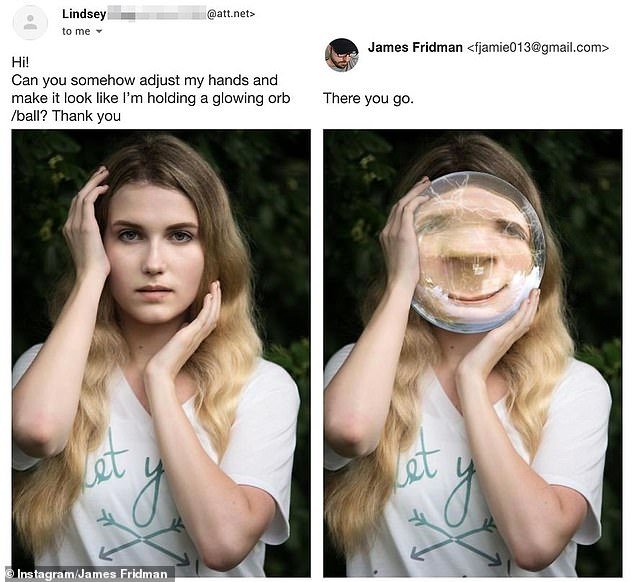 #6 This woman, thought to be from the US, was treated to a fine dining experience
#7 James gave this Venice gondolier a fresh new outfit
The good part: James is open to requests and will Photoshop your pics with pleasure. But keep in mind that it may make your request ... public. Actually very general.
#8 This woman's Tube ride was given a dramatic twist
#9 This woman was left stuck in the road in this photo-edit by James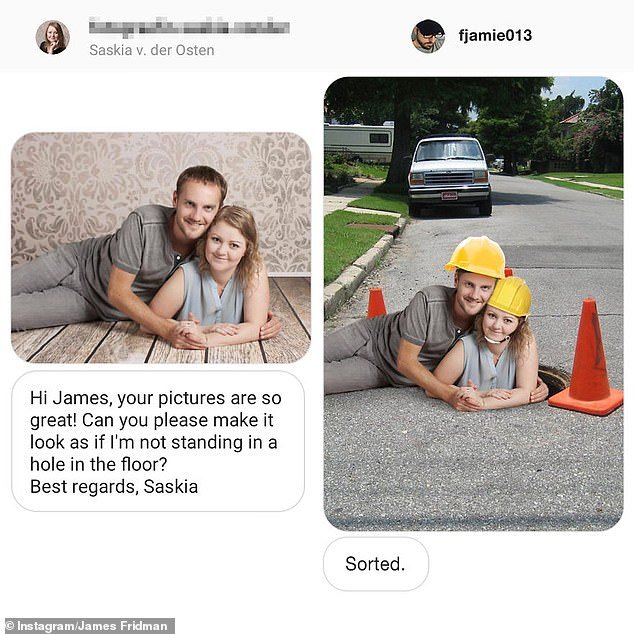 #10 This New York tourist had her holiday photo altered in a way she didn't expect
'Do not submit your personal images, if you don't want it to be made public. That is if you dare to ask the Photoshop Wizard to cast a spell, don't be surprised when you're made to look like a fool.' Fridman's warning plastered almost everywhere reads.