Working as a bodyguard for celebrities can be both challenging and very dangerous. Bodyguards always need to stay alert and strain all the time in a bid to prevent any incoming attack.
With these guys mostly around, protecting their employer from one attack or the other, they regularly appear in front of cameras.
Some of these professionals, however, turned out to be very handsome that they manage to draw a legion of fans to themselves. While some have even created their own fan-pages on social media, a few can easily earn for themselves attention without creating a fan-page.
BrightHumanity recently paid attention to the most favorite celebrities' bodyguards and equally want you to assess them. Enjoy!
#1 Rapper Cardi B's Bodyguard
© Botticelli/GC Images © price_services / instagram
In December 2019, rapper Cardi B went to court, but it turned out the celebrity herself didn't draw the world's attention, but instead, her bodyguard was highly noticed in the pictures. Cardi B's bodyguard is Price and has an Instagram page with over 15,000 followers.
© Botticelli/GC Images © price_services / instagram
'Her bodyguard kind of look like Scar. Tell him to allow me to be the mouse.' A follower had said attaching footage from the cartoon where Scar planned on eating the mouse.
#2 Justin Bieber's Bodyguard
© Bauer-Griffin/GC Images © mikeyarana / instagram
Michael Arana is Bieber's bodyguard. Michael organizes the singer's team of bodyguards and going by what's on Michael's page, he has a close relationship with the singer. Recently, he congratulated Justin for releasing a documentary about his life in a touching post.
#3 Karl Lagerfeld's Bodyguard
© Julien Hekimian/Getty Images © bentoub / instagram
In early 2019, the world grieved over the loss of the creative director of Chanel Fashion House – Karl Lagerfeld. Sebastien Jondeau, 44, was the designer's bodyguard as well as his personal assistant. Working with Lagerfeld for 20years, the guard take part in Chanel shows.
In the same year, Sebastien showcased Lagerfeld's collection at the Men's fashion show.
#4 Paris Hilton's Bodyguard
© Michael Dodge/Getty Images
Paris Hilton has always been skeptical about own security. Years ago, she shared with her followers a picture of a 6-man security team, after her spouse proposed to her with a valuable ring. Hiring another guard to protect her expensive jewelry, the well-known socialite doesn't mind hiring a hot new professionals on her bodyguard team.
#5 Katie Holmes's Bodyguard
© James Devaney/WireImage
Katie Holmes changed her guards and driver after breaking up with Tom Cruise in 2012. This above model-looking bodyguard was often sighted next to the famous actress before the breakup.
#6 Heidi Klum's Bodyguard
© Reporter / East News © Reporter / East News
Heidi Klum initially dated Martin Kirsten, her bodyguard for two years. Despite expecting a wedding or even a baby, the pair officially broke up in 2014. Certainly, Martin couldn't continue working with her ex, so she hired a new handsome bodyguard for security.
#7 Bella Hadid's Bodyguard
© Will / MEGA / East News © simon.newton / instagram
Simon Newton, Bella Hadid's bodyguard always follows the fashion trends and impresses his followers with stylish appearances. Leaving the bodyguard profession, Simon currently works as a businessman and as a fitness model.
#8 Gigi Hadid's Bodyguard
Gigi prefers to be the most noticeable in the photos, but it appeared she's okay with her handsome bodyguard guiding her around.
#9 Victoria Beckham and Amy Adams's Bodyguard
Getty Images
Getty Images
Amy Adams was spotted with a young bodyguard who appeared like a model in 2016, but months later, the same bodyguard was spotted among Victoria Beckham's security men. He's always looking on-trend.
#10 Kristen Stewart's Bodyguard
© East News © East News
Kristen Stewart's, the best actress of the decade has a very handsome bodyguard who has a Facebook and Twitter fan pages. The bodyguard has been working with Kristen for a long time but had also guarded Melissa McCarthy and Nina Dobrev.
#11 Kylie Jenner's Bodyguard
© AFP / East News
Tim Chung protects Kylie Jenner. Tim is hot, and obviously a handsome bodyguard with huge muscles. Any woman working with Tim would surely feel safe behind his stone wall.
#12 Brooklyn Beckham's Bodyguard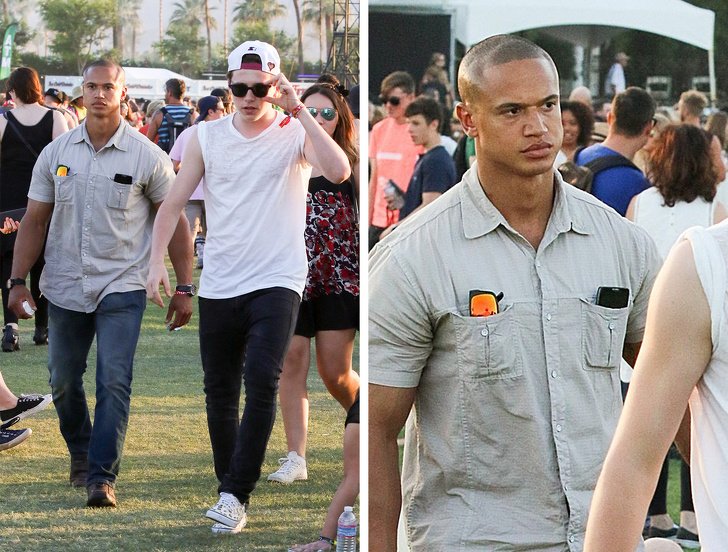 © Papjuice / Bauergriffin.com / East News © Papjuice/Bauer-Griffin/GC Images
Justin Riblet, Brooklyn Beckham's bodyguard became an internet sensation in 2014 on guarding Jennifer Lawrence. Internet users applauded his attractiveness as well as his extensive experience of being a professional bodyguard.