We wait for the holiday season for the whole year and love decorating Christmas trees no matter how much effort and time it takes. But there are some people who are way too lazy but definitely creative to get the job done.
Sometimes when they can't get the Christmas tree for decoration they make their own tree out of things you least expect and it turns out to be amazing and unique.
So here we have a few Christmas trees by people made at work that is quite creative and you could get some ideas for decorating your tree.
#1 Christmas tree created at the public library by the librarians in Sulęcin, Poland
Botatitsbest -Via
#2 Tree made of bell peppers
oMRBLONDEo -Via
#3 Christmas tree made of guide dogs at 'The Royal Dutch Guide Dog Foundation'
KNGFgeleidehonden -Via
#4 At a chemistry lab
EarthwormEd -Via
#5 Christmas tree made by the soldiers
jerm1820Report -Via
#6 A pointe shoe tree In London Coliseum, English National Opera
katebirch20 -Via
#7 Christmas tree by the art center employees
strangeloop527 -Via
#8 A tree made of sheets of glass at a tech store
ProbablyMaybe69 -Via
#9 A bacterial Christmas tree
LadyMario -Via
#10 This is how you make a Christmas tree at a supermarket
tabb_oule -Via
#11 When you work at a gas company and couldn't get a Christmas tree
Oca9 -Via
#12 100 Umbrellas used to make this Christmas tree at Claridge Hotel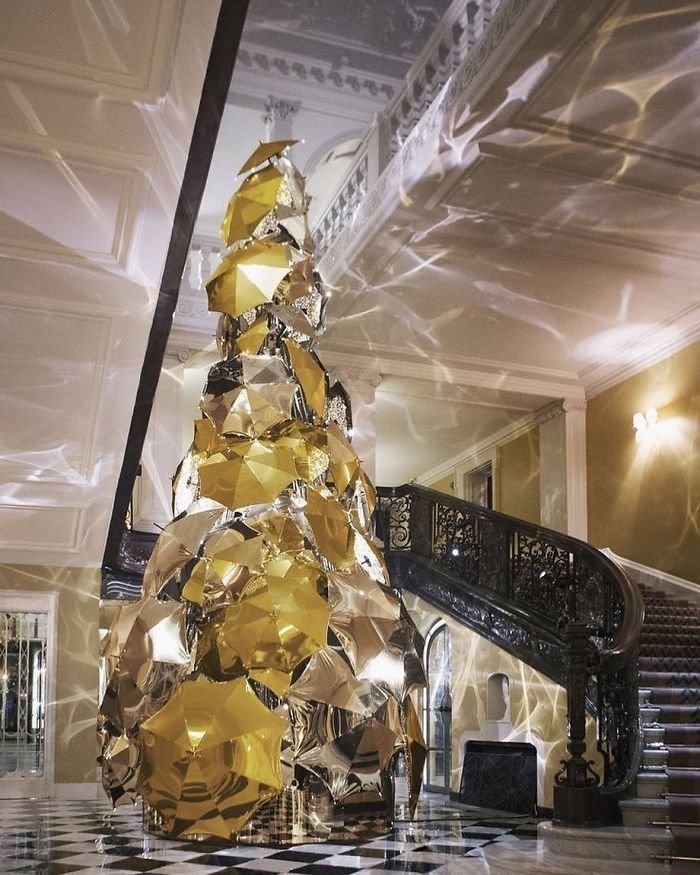 interior_image.ideas -Via
#13 When you are creative enough to make your Christmas tree special
Novus396 -Via
#14 Tree at a clothes shop
doddingtonhall -Via
#15 Latex gloves used to make Christmas tree at a laboratory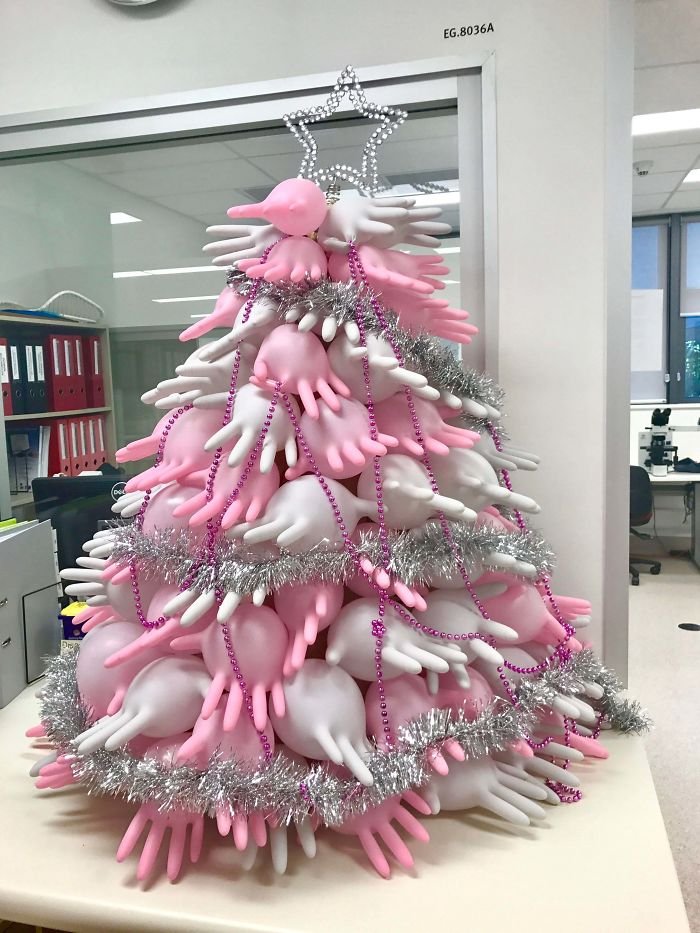 pine_apple_pizza -Via
#16 Farmer made an amazing Christmas tree
katherine_douglas_art -Via
#17 Tree at an IT department worker's desk
Mr_MozZie -Via
#18 Local pizza shop made a Christmas tree with pizza boxes
SpaceyEve -Via
#19 Tree at a whisky distillery
litzippo -Via
#20 A banana Christmas tree at a supermarket
drinking-coffee -Via
#21 Tree made of the periodic table
alpacapunch33 -Via
#22 Made of bycicle gears at a bike store
Cinnemaninemanas -Via
#23 Tree made of monitors
thatpartyguy -Via
#24 Christmas tree made of Conchas at a local Hispanic bakery
idkkimkim -Via
#25 Christmas tree at a University made of Encyclopedias
sa-steve-va -Via
#26 Christmas tree built by the workers on one of Yeovil's busiest roads
bbcsomerset -Via
#27 Tree made with Jager at a bar
free_trdr_bewlf -Via
#28 Tree made out of confiscated items at the Vilnius Airport
Lithuanian Airports -Via
#29 Christmas tree at an IT department
Drgott -Via
#30 Fractal tree at the maths department in Cambridge
CHAD_J_THUNDERCOCK -Via