You meet, go on a date, fall in love, engage in a long-term or short term courtship, get engaged and boom, you get married. You share with the world the honest photos of the wedded bliss and in turn, giggle at the posts.
But then again, we try to establish a dominance after gaining familiarity and staring at our spouse confidently while removing his/her phone from the charger and plugging ours in return. Honestly, that's what marriage is hinged on.
We at Brighhumanity has, however, rounded up 20 hilarious tweets capturing the relatable quirks you should expect following your wedding.
#1
© Parkerlawyer / Twitter -Via
#2
© Megatronic13 / Twitter -Via
#3
© squirrel74wkgn / Twitter -Via
#4
© NewDadNotes / Twitter -Via
#5
© iwearaonesie / Twitter -Via
#6
© copymama / Twitter -Via
#7
© iwearaonesie / Twitter -Via
#8
© Mirimade / Twitter -Via
#9
© TheCatWhisprer / Twitter -Via
#10
© Parkerlawyer / Twitter -Via
#11
© DadZZZasleep / Twitter -Via
#12
© iwearaonesie / Twitter -Via
#13
© XplodingUnicorn / Twitter -Via
#14
© YourMomsucksTho / Twitter -Via
#15
© Jayme_Pants / Twitter -Via
#16
© thedadvocate01 / Twitter -Via
#17
© iwearaonesie / Twitter -Via
#18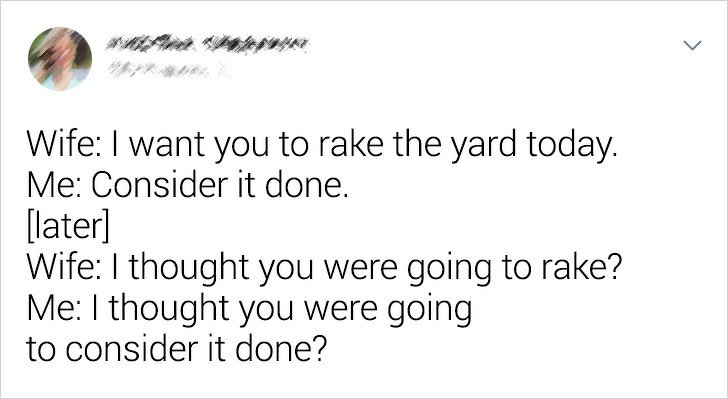 © HenpeckedHal / Twitter -Via
#19
© smerobin / Twitter -Via
#20
© murrman5 / Twitter -Via