In the universe of Disney, everything appears to go the usual way – a prince faces hurdles, but still get to finally be with the love of his life and a beautiful princess long anticipating to also be with her prince charming, riding along with a white horse.
Twisting the original/the norm, an artist, TT Bret has decided to challenge the usual by transforming some of our favorites Disney Characters into the opposite gender. The artist shared the aftermath on her page titled 'Let There Be Doodles', and honestly, they are super adorable.
While we also can't wait to share them with, we at Brighthumanity has compiled what 15 Disney Characters would like as the opposite gender.
So, take a deep look at their stunning makeover!
More Info: Tumblr
#1 Moana
© Moana / Walt Disney Pictures © Let There Be Doodles / Tumblr
#2 Elsa
© Frozen / Walt Disney Pictures © Let There Be Doodles / Tumblr
#3 Ursula
© The Little Mermaid / Walt Disney Pictures © Let There Be Doodles / Tumblr
#4 Aladdin
© Aladdin / Walt Disney Pictures © Let There Be Doodles / Tumblr
#5 Belle and the Beast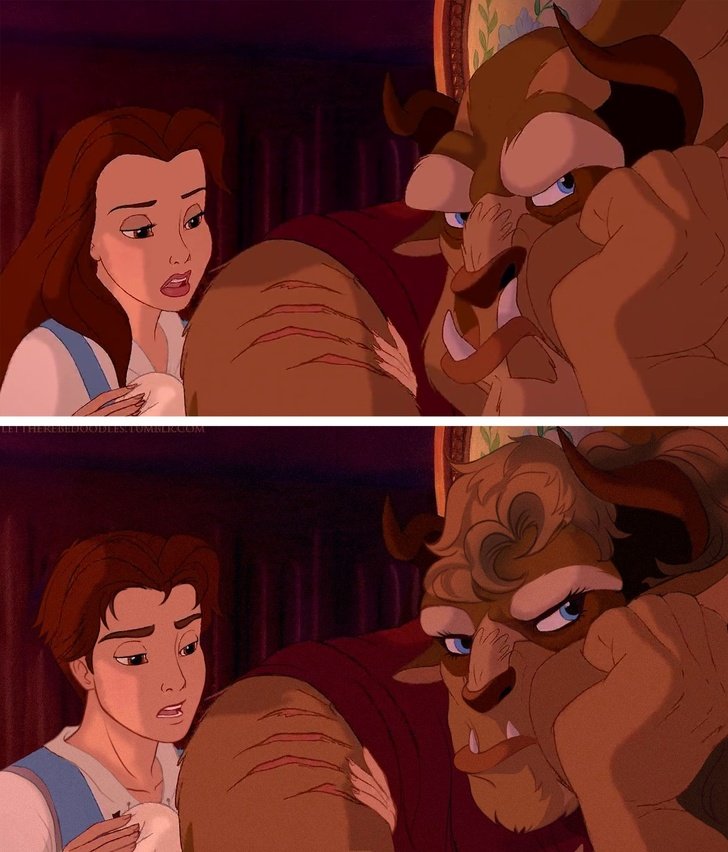 © Beauty and the Beast / Walt Disney Pictures © Let There Be Doodles / Tumblr
#6 Wendy
© Peter Pan / Walt Disney Pictures © Let There Be Doodles / Tumblr
#7 Alice
© Alice in Wonderland / Walt Disney Pictures © Let There Be Doodles / Tumblr
#8 Esmeralda
© The Hunchback of Notre Dame / Walt Disney Pictures © Let There Be Doodles / Tumblr
#9 Tarzan
© Tarzan / Walt Disney Pictures © Let There Be Doodles / Tumblr
#10 Rapunzel
© Tangled / Walt Disney Pictures © Let There Be Doodles / Tumblr
#11 Anna
© Frozen / Walt Disney Pictures © Let There Be Doodles / Tumblr
#12 Jasmine
© Aladdin / Walt Disney Pictures © Let There Be Doodles / Tumblr
#13 Merida
© Brave / Walt Disney Pictures © Let There Be Doodles / Tumblr
#14 Ariel
© The Little Mermaid / Walt Disney Pictures © Let There Be Doodles / Tumblr
#15 Snow White
© Snow White and the Seven Dwarfs / Walt Disney Pictures © Let There Be Doodles / Tumblr