The character of Joker is one that is borderline mad, psychopath, yet somehow relatable to many. Many people have been sounding their concerns and even calling theaters to ban the movie, but it didn't stop the movie from snapping $92 million in worldwide box offices. A number of people who walked out of the theater after the movie was done, though, were calling it one masterpiece on the portrayal and making of a Joker.
Arthur Fleck is a man who was forced and beaten down by the society when he's trying hard to help and 'cheer' others up. He ended up using his own anarchic way to gain attention, excel in romance and ultimately, became the main enemy of Gotham City.
Dark Knight has been keeping their score of 9.0 with more than 2m reviewers.
The Dark Knight / IMDb -Via
'Joker', although only with a little more than 167,000 reviewers, gained similarly impressive score.
Joker / IMBDb -Via
Meanwhile Rotten Tomatoes has only slightly different opinion for their audience score. '90% of people were happy with 'Joker' although there are less reviewers; about 23,000.
Joker / Rotten Tomatoes -Via
'The Dark Knight' has been retaining a slightly higher score at 94%. What's really different here are the Tomatometer.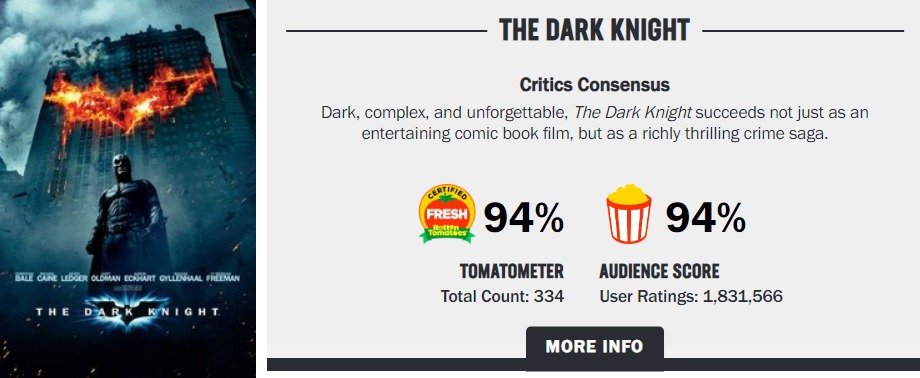 The Dark Knight / IMDb -Via
'The Dark Knight' was thought to be an ultimate masterpiece by critics who call it 'brilliant' with 'stylish action' comparable to 'The Matrix'. And more than 30% of critics think 'Joker' is dull.
It's interesting to see that while some people are concerned about the implication of the movie may have on people with a predisposition to resort to violent acts, critics, on the other hand, thinks it's too dull.
What about you? We'd love to hear your thoughts on 'Joker' if you've watched it!