It takes a lot to really screw up your job as a deliveryman because you mostly don't need to do much. Most letters and documents only need to be slipped through the mailbox without being folded. People can screw up on that pretty well.
Others love the anticipation of getting a package delivered after ordering the item online. Whether its clothes, food or electronic times, you want them to come unharmed and in perfect condition. But it certainly takes quite the shake to just decide that your TV comes with horrible cracks and bends.
Brighthumanity has compiled the worst moments people receive their precious packages.
#1 Someone is not listening to their new vinyl record thanks to USPS.
404forlife -Via
#2 4 years of hard work, bent just like that.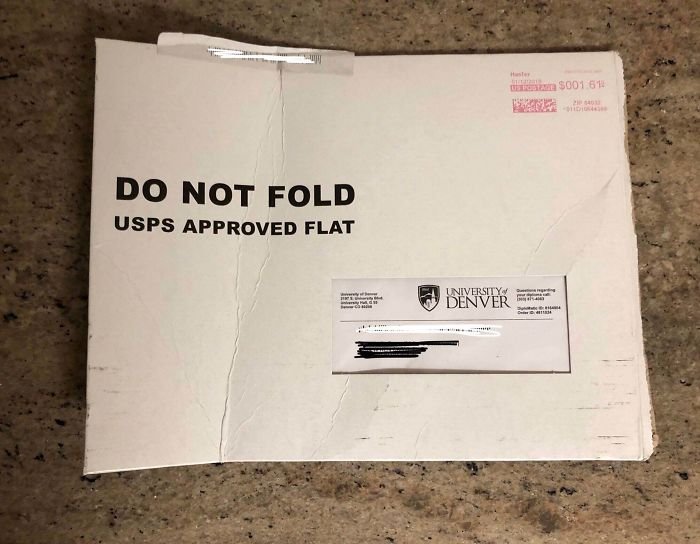 GummybearGoddess -Via
#3 Amazon deliveryman delivered and stole the package within split seconds.
PresidentFartFeather -Via
#4 UPS deliveryman didn't use a toilet and decided to pee in the elevator.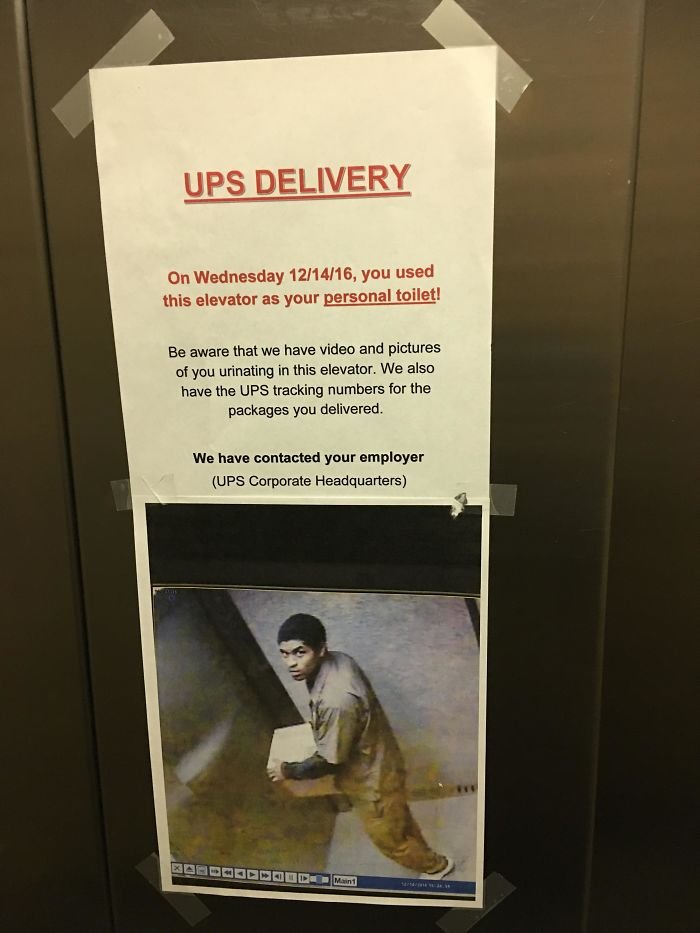 ediesdad -Via
#5 Someone got their brand new 4K TV like this.
TheBentCarrot -Via
#6 Domino pizza man ate the topping and closed it back.
TheBentCarrot -Via
#7 Canada Post has been leaving the package here and receiver has lost 3 packages in 6 months.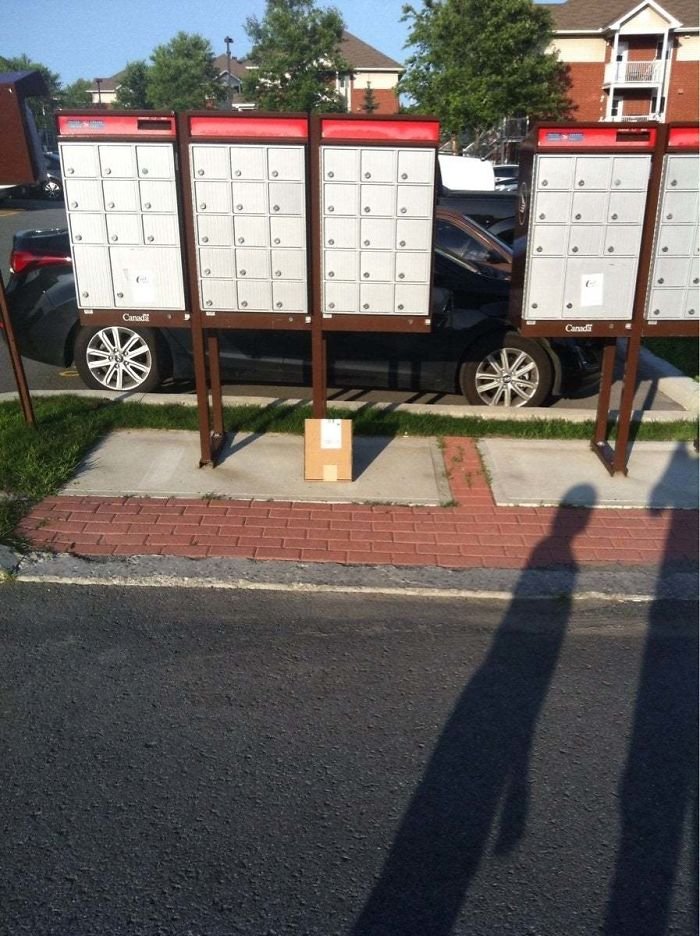 TheBentCarrot -Via
#8 Because the deliveryman thought putting the mat on top of the tires will conceal them.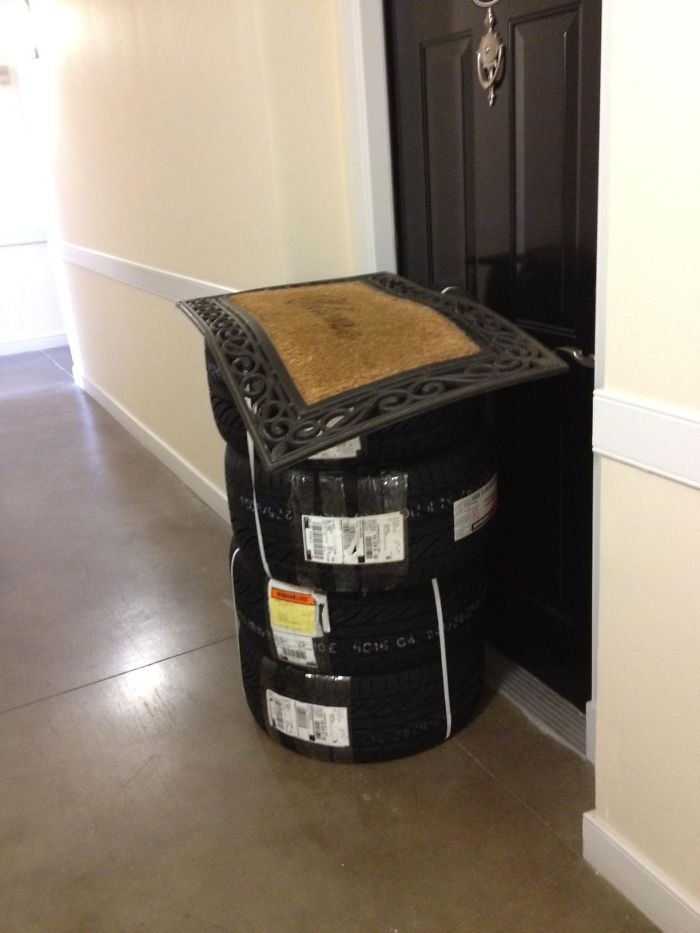 cryptogram -Via
#9 A USPS deliveryman ordered his new uniform which came in like how everyone expected. Living up to their (bad) reps.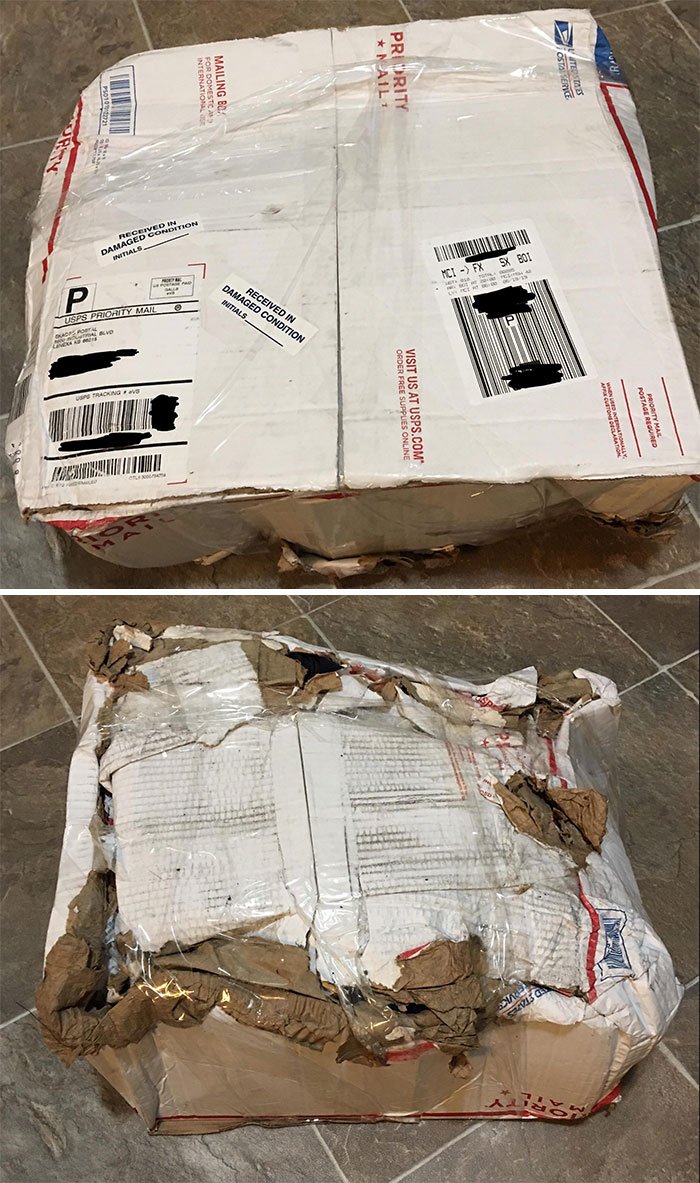 istrx13 -Via
#10 More illiterate deliverer.
imgur.com -Via
#11 So this door swings the direction the box is being placed at.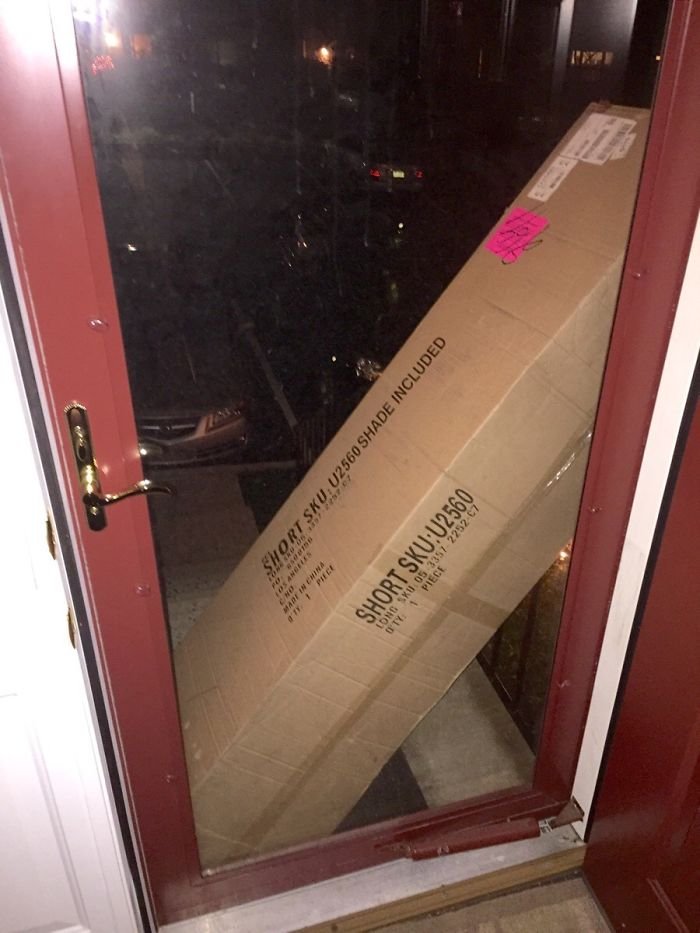 imgur.com -Via
#12 Man took an accident sip on the drink he was supposedly delivering as the paper cover was still on.
drsleep007 -Via
#13 Deliveryman didn't deliver. Because there was an obstruction on the front door.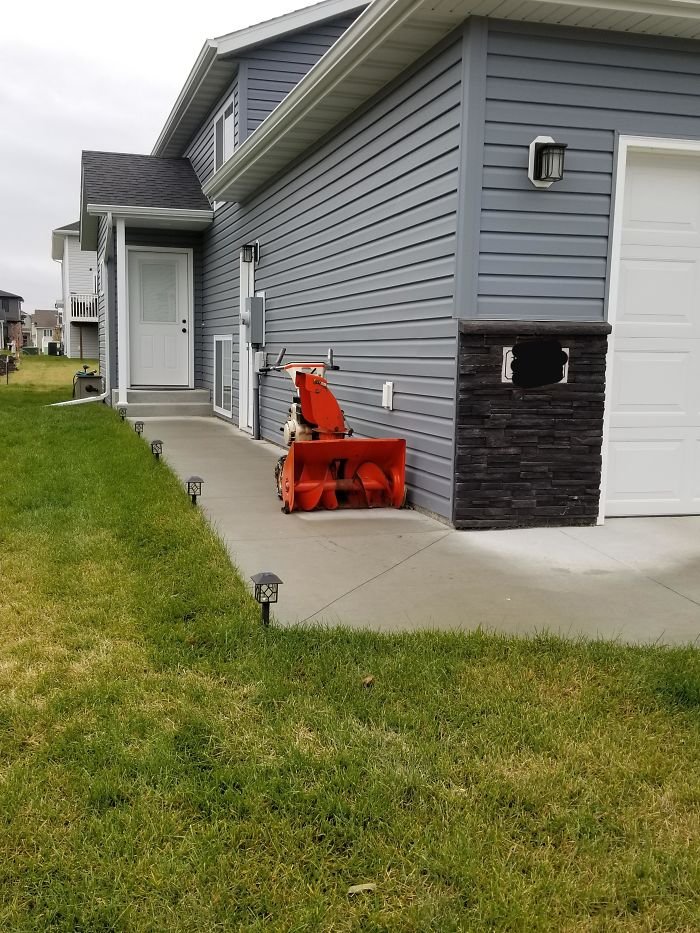 #14 UPS says they've delivered. Turns out they just dumped it in the middle of the driveway and found when owner was driving out.
Spyder756 -Via
#15 Receiver asked it to be delivered through window and this happened. Everything ended well as delivered apologized and receiver praised him.
#16 Sure, they care enough for it to come in like this.
b_rad.walden -Via
#17 Guess some has to order another door today.
larsredbull -Via
#18 How a delivery guy deliver his package to the 2nd floor.
chayenneheijnen -Via
#19 This dude licked a spoonful of food and put it back to be delivered.
TheOfficialCal -Via
#20 USPS strikes again with bent diplomas.
yakubs1 -Via
#21 When you saw this 'Fragile' item, you know it probably is going to suck for someone.
AnthonyDawnwalker -Via
#22 FedEx and UPS delivering packages as if they are all pillows.
kupus0 -Via
#23 Great job, FedEx. That's why they say robbery and criminal activities can be prompted by opportunities. Especially if it's flashed right in front of them.
GreedyRyan -Via
#24 Someone thinks the world is such safe place you can leave a brand new Alienware just like that.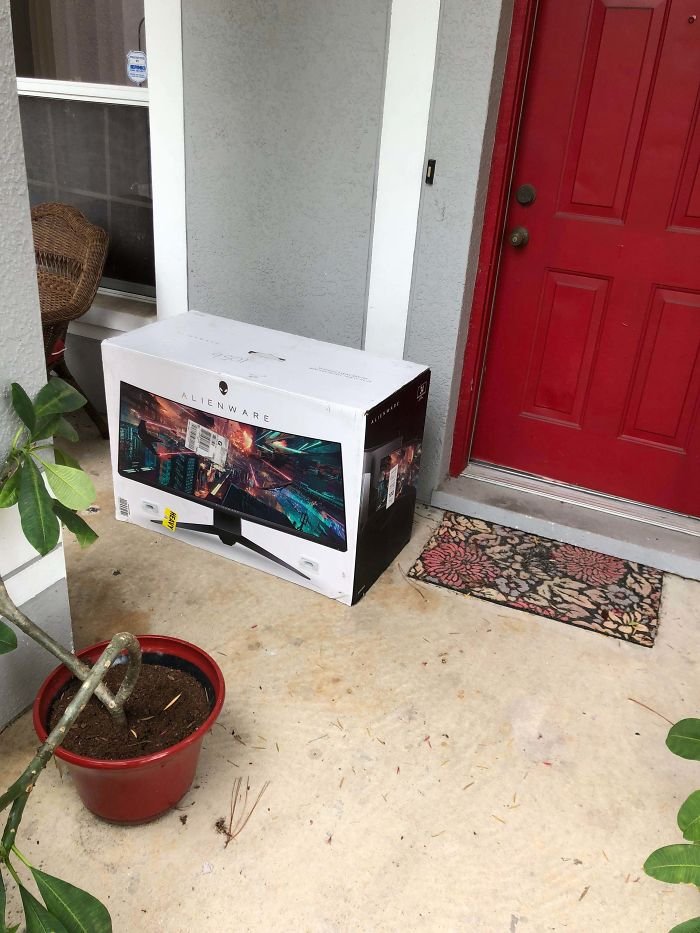 Liszthoven88 -Via
#25 FedEx delivery came with new modification on statue. Now owner has a sphinx.
robinson217 -Via
#26 UPS deliveryman delivered and stole what was supposed to be a Christmas gift.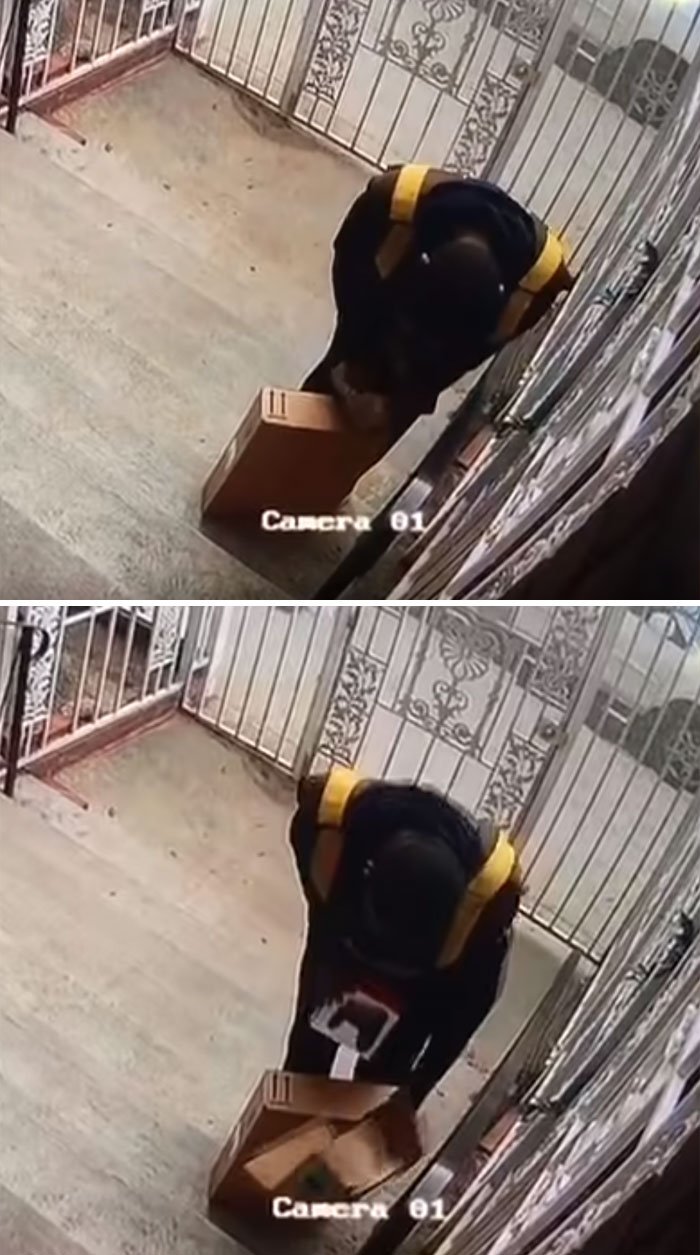 Steve S -Via
#27 Amazon delivery keeps leaving his packages to his neighbors who refuse to give them back. So he had to leave this note:
MasterChee5e -Via
#28 A single nose ring came in the biggest box ever.
ZenyaS89 -Via
#29 Time to read my brand new book.
SeaderTree -Via
#30 Fragile. Handle with care. Someone doesn't read.
Nigel_11 -Via