Professional Gregg Segal has an affinity for taking pictures of people and the food they've eaten. Sounds weird, but the photographer has a meaningful message in his projects and recently, he has traveled to 9 different countries to see what are the diet kids enjoy in those countries.
And now, the project has been released as a book titled 'Daily Bread: What Kids Eat Around The World' which you can check out on his site.
The project itself began from a previous one called '7 Days of Garbage'. Regarding this previous project, Gregg explained, "I asked family, friends, neighbors and anyone else I could convince to save their garbage for one week and then lie down and be photographed in it."
"It's impossible to ignore the problem of consumption and waste when you're lying in it! To me, the most disturbing thing about the garbage I photographed was the packaging that comes with our food," he added.
And for this project, Gregg traveled to Italy, Senegal, France, Germany, Malaysia, USA, India, Brazil, and the United Arab Emirates and "focused on kids because eating habits start young and if you don't get it right when you're 9 or 10, it's going to be a lot harder when you're older."
More info: greggsegal.com | Instagram | Facebook | Twitter
#1 Kawakanih Yawalapiti, 9, Upper Xingu Region Of Mato Grosso, Brazil
#2 Anchal Sahani, 10, Chembur, Mumbai, India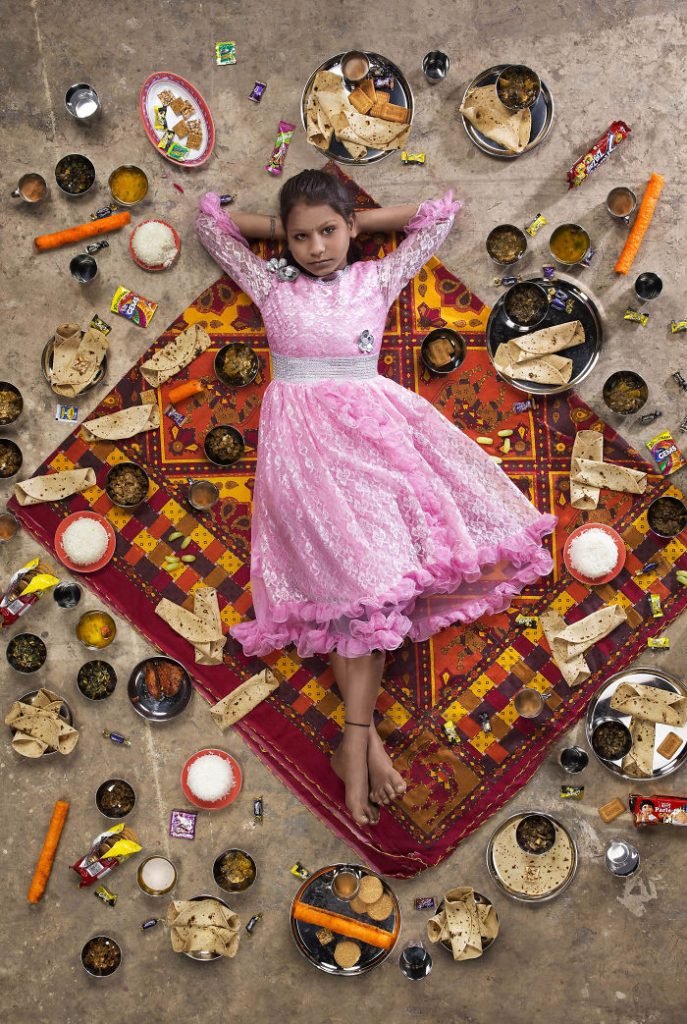 #3 Davi Ribeiro De Jesus, 12, Brasilia, Brazil
#4 Meissa Ndiaye, 11, Dakar, Senegal
#5 Ademilson Francisco Dos Santos (11) Vão De Almas, Goiás, Brazil
#6 Beryl Oh Jynn, 8, Kuala Lumpur, Malaysia
#7 Sira Cissokho (11 Yrs Old) Dakar
#8 Rosalie Durand, 10, Nice, France
#9 Hank Segal, 8, Altadena, Ca
#10 Greta Moeller,7, Hamburg, Germany
#11 June Grosser, 8, Hamburg, Germany
#12 Andrea Testa, 9, Catania, Italy
#13 Leona "Nona" Del Grosso Sands, 6, Glendale, Ca
#14 Siti Khaliesah Nataliea Muhamad Khairizal, 9, Kuala Lumpur, Malaysia
#15 Adveeta Venkatesh, 10 Years Old, Mumbai, India
#16 Frank Fadel Agbomenou, 8, Dakar, Senegal
#17 Yusuf Abdullah Al Muhairi, 9, Mirdif, Dubai, Uae
#18 Tharkish Sri Ganesh (10) And Mierra Sri Varrsha (8), Kuala Lumpur, Malaysia
#19 Cooper Norman, 12 (10 At Time Of Shoot), Altadena, Ca, USA
#20 John Hintze, 7, Hamburg, Germany
#21 Isaiah Dedrick, Long Beach, Ca
#22 Alexandra (9, Left) And Jessica (8, Right) Lewis, Altadena, Ca, USA
#23 Henrico Valias Sant`anna De Souza Dantas, 10, Brasilia, Brazil
#24 Paolo Mendolaro, 9, Belpaso, Sicily
#25 Daria Joy Cullen, 6, Pasadena, California