We are all aware of what's Tinder and have probably used it at least once in our life! But you never know what's the truth or who are you having a conversation with. Sometimes you can be lucky enough to find someone that you can date while other times it might just turn out to be horrifying. So this guy used the gender swap feature on 'Snapchat' and did something hilariously amazing.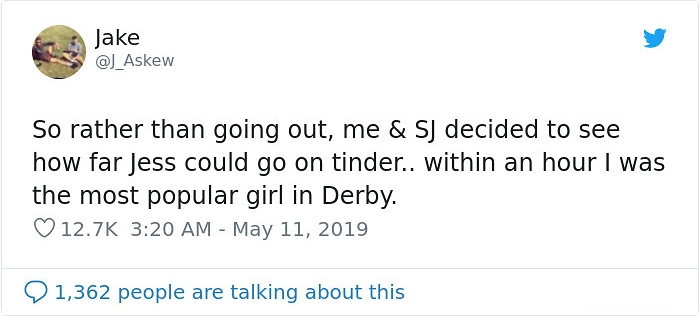 The filter, another genius way for Snapchat to temporarily boost its users with an engaging plaything, is the latest craze sweeping social media right now. You might've noticed friends posting pics of themselves as members of the opposite sex with sometimes hilarious, sometimes uncomfortably attractive results. Who knew your best mate Dave was so sexy?
Jake Askew, a 20-year-old British man used the filter and decided to put the picture on Tinder under the name of 'Jess'. Shockingly, his profile was swiped right by a lot of guys and 100s of guys swooned over the alluring charms of 'Jess' aka Jake. Well, if you think that was it then you're wrong.

Jake got a peek in the realities of dating sites for a lot of women who get all kind of messages from guys. "One chap asked 'Are you a piece of art because I want to nail you up against the wall,'" he said. "Another talked to me about his 'pork sword' and one bloke simply asked me to 'sit on his face.'"
"To be fair, I looked at myself with the Snapchat filter on and thought I looked unreal," Jake continued. "I showed my mate and we thought we'd make a Tinder just to see if I'd get any matches from it. Obviously, I didn't expect to be liked by over 1600 thirsty lads."