There is a common notion that it is not polite to show up in official events with the same clothes twice. For the majority of us, following this rule would either mean we would stop going to events or have heaps of clothes.
Celebrity stylists can seamlessly look glamorous even while wearing the same clothes twice. There are a few tips we could learn from them that could turn us into fashion pros.
These celebrity stylists prove that you can be stylish without the need for having many useless clothes.
#1 Rita Moreno
Rita's amazing acting skills were recognized when he was awarded an Oscar in 1962. On the big day, she was wearing a shiny dress.
The dress was made from a real kimono. Rita must have loved the dress so much and kept it in her wardrobe until 2018 when she wore it again during her 90th Oscar ceremony.
#2 Cate Blanchett
In 2015 during the premiere of Carol, Cat wore a classic black dress with transparent sleeves that had tattoo patterns. To add to her 'dark style' the actress wore black earrings.
Three years later, she wore the outfit in public again, but this time, replaced the dark earrings with big bright ones.
#3 Queen Letizia of Spain
A queen has the liberty to have as many dresses as she wants. While everything may be at her disposal, the monarch of Spain thinks otherwise.
In February this year, she attended a banquet held by the president of Peru and his wife in a dress she wore to the wedding of William and Kate Middleton 8 years ago
#4 Geri Halliwell
Most people after losing weight choose to throw away their now oversized clothes. Not Geri Halliwell. She chose to wear the same dress to two occasions to show how her body had changed.
She first appeared in this dress in 2002 at an Oscar party and 7 years later she wore the same dress again, only that it looked slightly different.
#5 Jane Fonda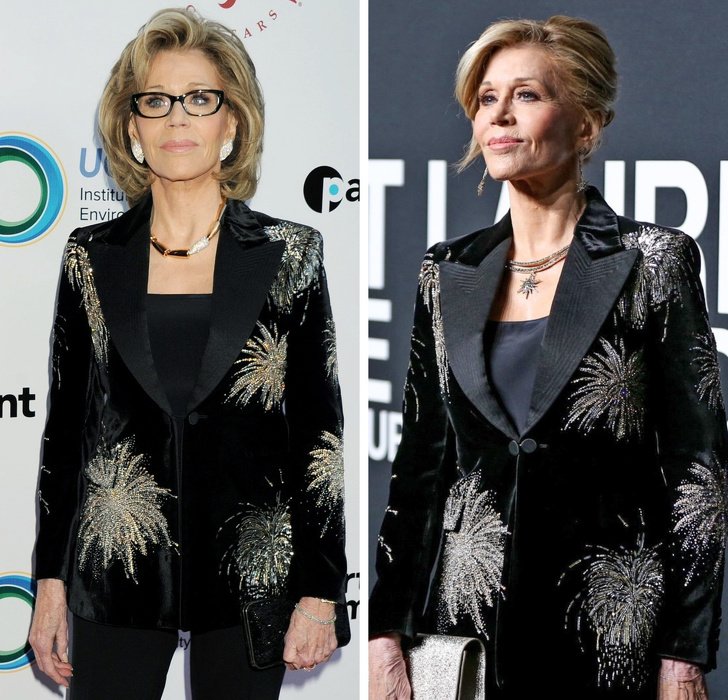 Jane has a favorite jacket that's she likes wearing but doesn't want to create much fuss. To wear it often, she decided to change her hairstyle and throw in a few accessories that match the style and voila!.
#6 Kate Middleton
The Duchess of Cambridge also used her hairstyle to pull out an outfit twice. She wore this turquoise dress in the evening before the London Olympics games in 2012 and wore it again in 2018 at the Tusk Conservation Awards ceremony.
She changed her look just by twitching her hairstyle.
#7 Kate Moss
Model Kate Moss knows how to pull out her furs properly. In 2010, she appeared in a black fur coat at the Christian Dior fashion show. By then the fur was 4 years old.
A paparazzi had snapped her photo wearing the same coat at a sam and Ruby Charity event in 2006.

#8 Harry Styles
British singer Harry Styles of the One Direction boy band wore a shirt that had funny heart prints on at his 2013 birthday party.
Just 6 months later, he wore the same shirt for the one Direction: This is Us premiere but added a jacket on top of it.
#9 Sharon Stone
Actress Sharon is known to turn heads while gracing the red carpet. She always chooses pieces by famous designers to wear in public.
Sharon wore this Roberto Cavalli dress twice.
In 2009 at a Mardan palace party in Antalya, Turkey and at a concert dedicated to the NYPD. To contrast the looks, she switched between dark and light accessories.