The life of a witch is quite difficult and the issues they had to face during the 15th-18th centuries were far worse than what they have to face today. And do you remember the witch purge that resulted in an estimated 35,000 to 100,000 executions? But today visiting or dating the gynecologist isn't something you would be looking forward to experiencing either.
Elizabeth Pich & Jonathan Kunz hailing from the German-French border town Saarbrücken is also popularly known as War and Peas have created a few comic strips that have been constantly growing into one of the funniest webcomics online. This time the duo has created comic strips that illustrate "the adventures of a Slutty Witch," and it's going to make you feel laugh hard and feel guilty at the same time.
"The character was spooking around in our heads for a while," Elizabeth and Jonathan said. "We'd been wanting a slutty, empowered female character for some time. 'Slut' and 'witch' are two words that have been reclaimed and redefined to represent aspects of feminity such as freedom and power. We liked that. She definitely knows what she wants and takes no shit from anybody," they added.
"Halloween is the only night of the year that she can roam the streets incognito. She'll definitely mix in with the common folks and party a little with her vampire boyfriend," the artists said.
More info: warandpeas.com | Instagram | Twitter | Patreon | Facebook
#1
#2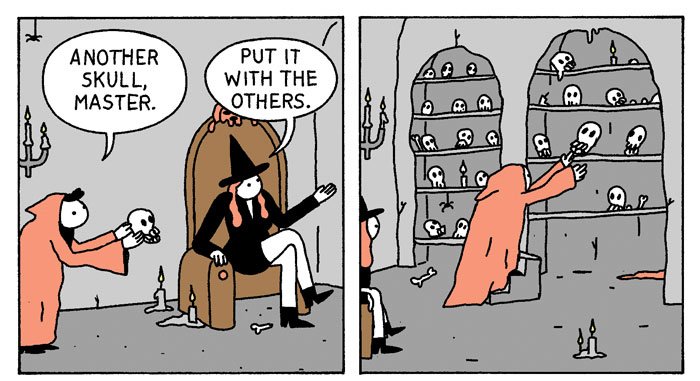 #3
#4
#5
#6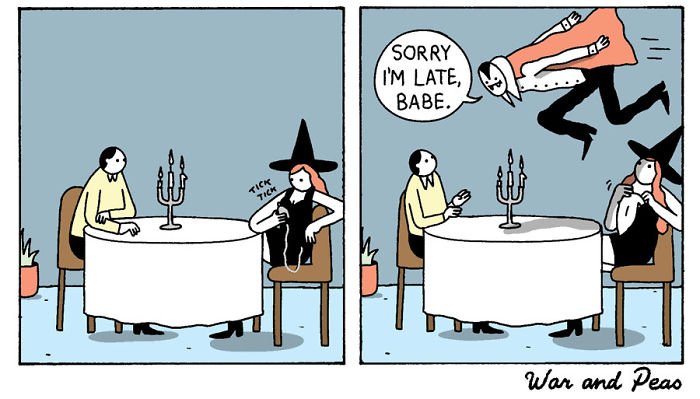 #7
The Internet loved it and here's how people reacted